2020 National Volunteer Week (April 19 - 25): Thank You Volunteers!
Published Monday, April 20, 2020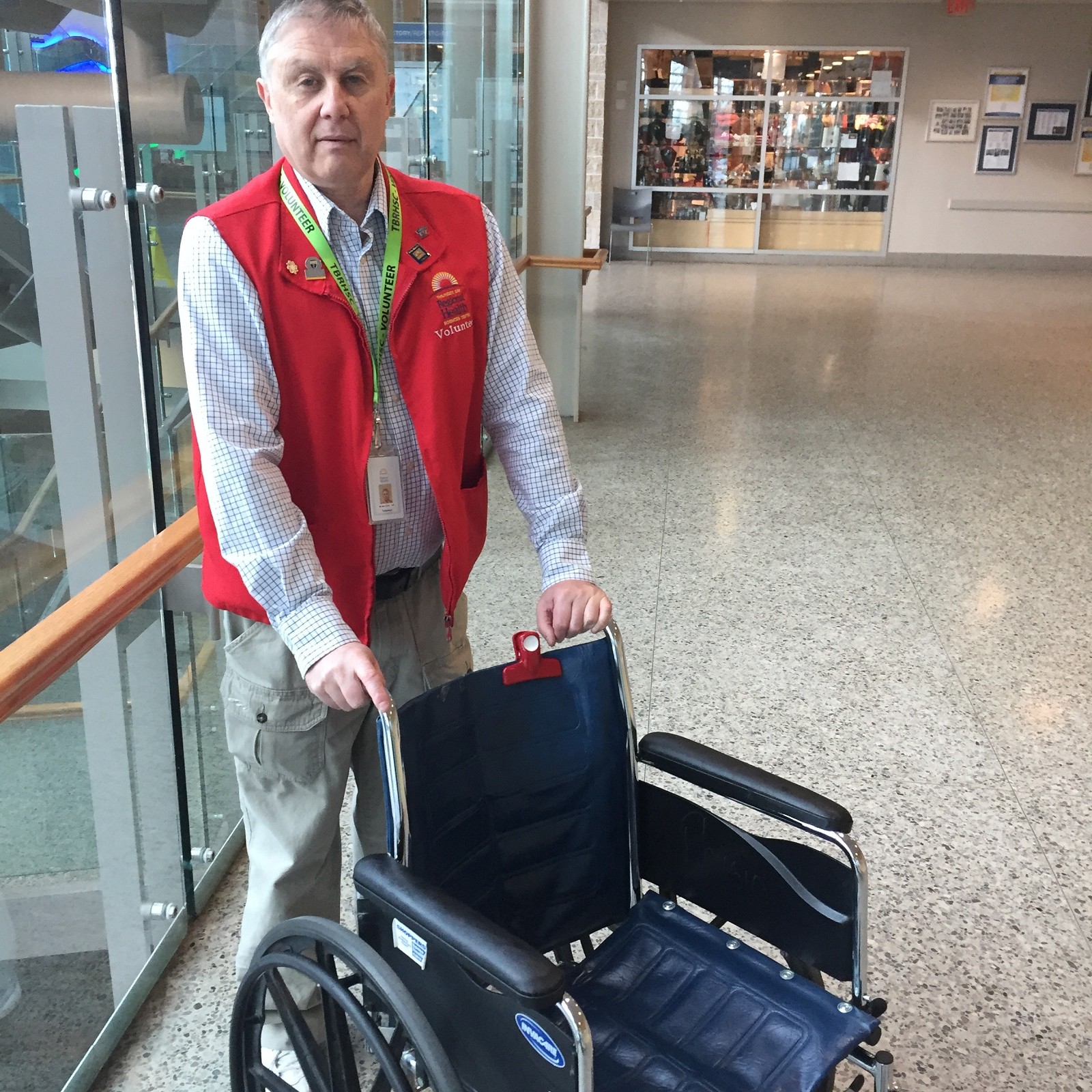 Kevin Herman is the team leader of the Rehabilitation Volunteer team. Kevin also leads monthly New Volunteer Orientation training.
---
Volunteers contribute in countless ways to patient and family centred care at the Thunder Bay Regional Health Sciences Centre every day of the year. Typically, at this time of year, we make a special effort to recognize their contributions. However, the global outbreak of COVID-19 has changed the day-to-day lives of all Canadians. Health care workers and frontline staff are working tirelessly to provide essential services during this time of crisis. Many Canadians are self-isolating or practicing social distancing to help prevent the spread of the virus.
As a result, Volunteers at our Hospital, like others across Canada, are not able to serve on-site during this pandemic. Many of our Volunteers are seniors and are assisting us in high-traffic areas, and we do not want to put them at any risk of exposure to COVID-19.
While the Volunteers represent a wide array of ages and backgrounds in our community, they all have one thing in common – they make a tremendous impact on the experiences of patients and families from all over Northwestern Ontario.
They come to give back to the Hospital; learn about a career in health care; meet new people and make new friends; support their community's Hospital in an advisory capacity, or by helping out with fundraising.
Hundreds of Volunteers give generously of their time in departments and services throughout the Hospital – the Information Desk, OR Family Waiting Area, Pacemaker Clinic, Rehabilitation Transport, Healthy Lifestyles Rehabilitation, Seasons Gift Shop (including the Jewellery Gallery), Volunteer Association, Regional Cancer Care Northwest, Surgical Day Care, Pre-Admission, Renal Services, Emergency Department, Bariatric Centre, the Courtyard Gardens, and the Hospital Elder Life Program (HELP), to name just a few.
Visit www.tbrhsc.net and go to the section 'Join our Team' to find more information or e-mail volunteering@tbh,net or call 684-6266.
Patient Family Advisors volunteer to share their valuable insights and first-hand knowledge of how the Hospital's services impact patients. Patient Family Advisors help us meet the needs and priorities of our patients, families and community. They have direct input and influence the policies, programs and practices that shape the care and services that people receive. Visit the website www.tbrhsc.net and go to the section 'Join our Team' to find more information or contact : (807) 684-7322 or e-mail: PFCC@tbh.net.
Volunteers are also critical to the success of the Thunder Bay Regional Health Sciences Foundation. They help make a healthier Northwestern Ontario by providing administrative assistance, assisting with special events, and selling raffle tickets at various locations throughout the region. As a Volunteer, you can help make a healthier Northwestern Ontario by assisting with one of our many special events or selling raffle tickets at various locations throughout the region, to name just a few opportunities.
Call us at 345-4673 or e-mail volunteers@healthsciencesfoundation.ca
Volunteers are the backbone of any organization, and they are an essential link to the community. We value what they do to make the patient experience better.
As we celebrate National Volunteer Week 2020, we want to thank all of the Volunteers who help make a difference for all of our patients and families.
During National Volunteer Week, and all year long, we say THANK YOU VOLUNTEERS!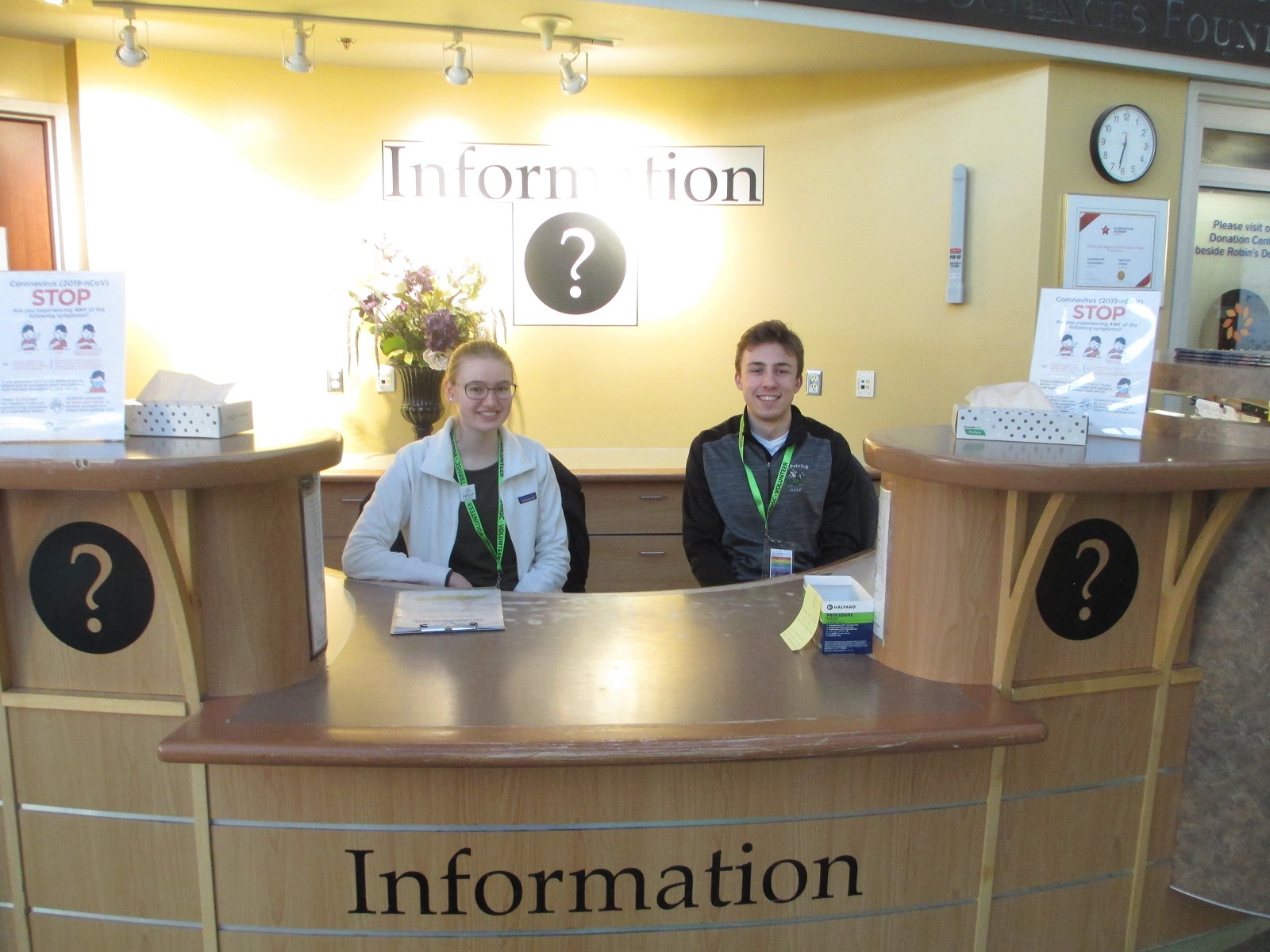 Victoria Anthes and David Buchan volunteer at the Information Desk, providing a friendly greeting to patients and visitors and helping with directions.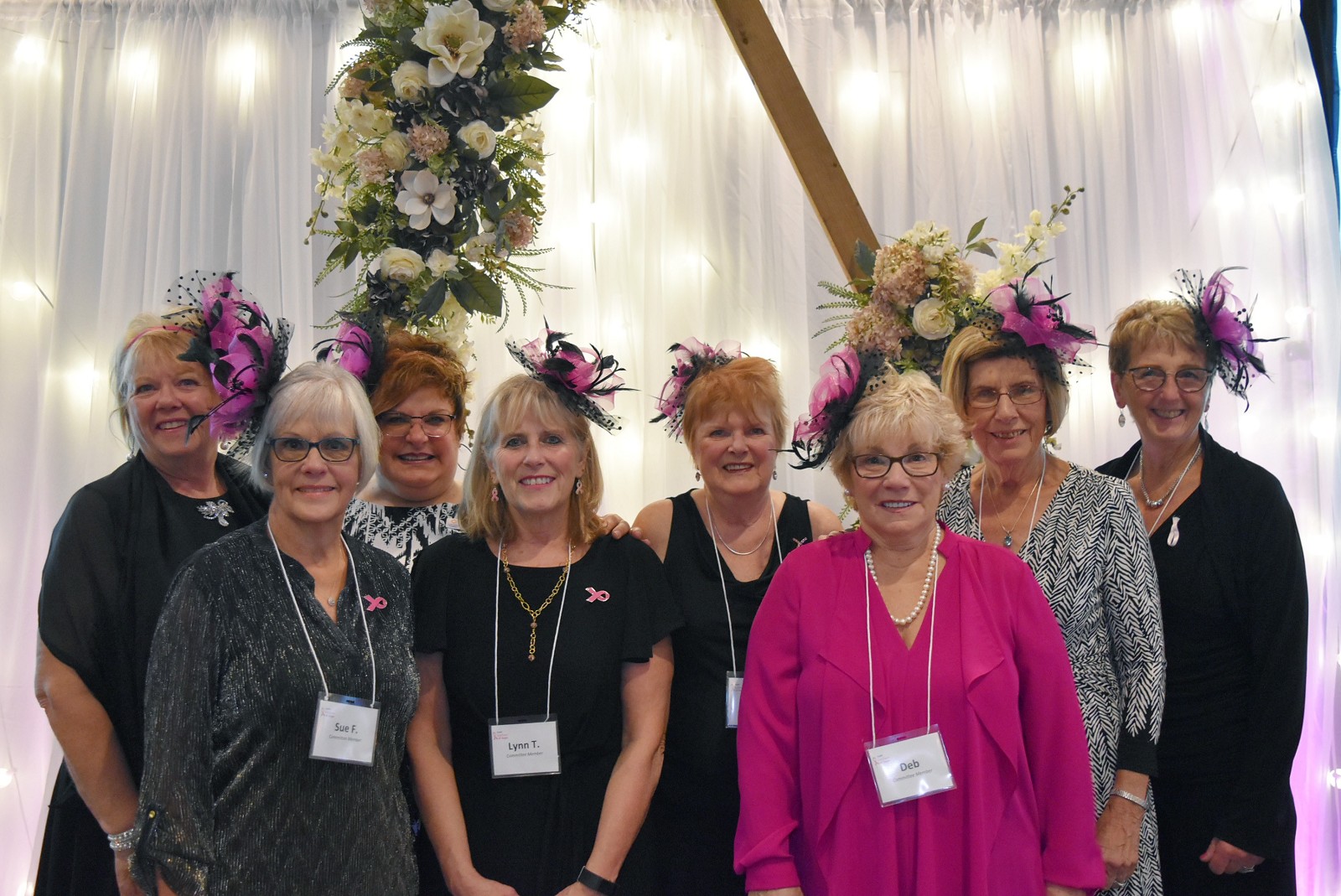 The Organizing Committee spend months preparing to host the annual Tbaytel Luncheon of Hope; a fundraiser to support exceptional breast cancer care.