Volunteering during Pandemic: A Meaningful Experience
Published Monday, April 19, 2021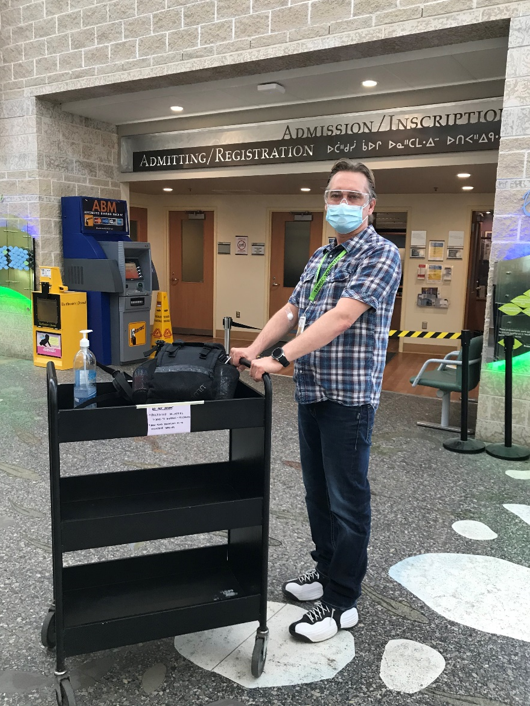 Casey Kuoppala is a Wayfinding Volunteer at Thunder Bay Regional Health Sciences Centre.
---
When Casey Kuoppala applied to become a volunteer at the Thunder Bay Regional Health Sciences Centre, no one could have imagined that a pandemic was about to radically change all of our lives.
Shortly after Casey completed all of the volunteer application, screening, orientation, and training requirements in early 2020, the hospital announced that it would be restricting on-site volunteer involvement. Like so many other hospitals across North America and beyond, ours wanted to take every possible precaution to keep everyone in our hospital and our community safe.
The absence of volunteers since March 19, 2020 had serious impacts on the functioning of various departments, services, and programs that have come to rely on volunteer involvement, including the Main Information Desk Greeter service.
Fortunately, the hospital's Incident Management Team approved a new Wayfinding Volunteer service beginning in August 2020. Based at the Main Entrance, Way-finding Volunteers have been helping to create a positive and welcoming first impression at this Hospital to all Patients and Care Partners by:
greeting out-patients, visitors, and staff;
giving directions to out-patients or visitors, personally escorting them, if needed;
transporting out-patients or visitors by wheelchair, as required;
delivering items for patients to the Nursing Stations;
locating, sanitizing, and returning wheelchairs to the main lobby.
The Volunteer Services department recruited for this role from among the existing volunteer team and then among newer volunteers like Casey. "I am happy to help out and give back to the community," he says.
"It's very fulfilling and rewarding to be helping people. Even small things make a big difference, and I'm happy to be helping out our health care heroes in the hospital."