Foresters Financial Set Up Serene Sitting Spaces
Published Wednesday, August 28, 2019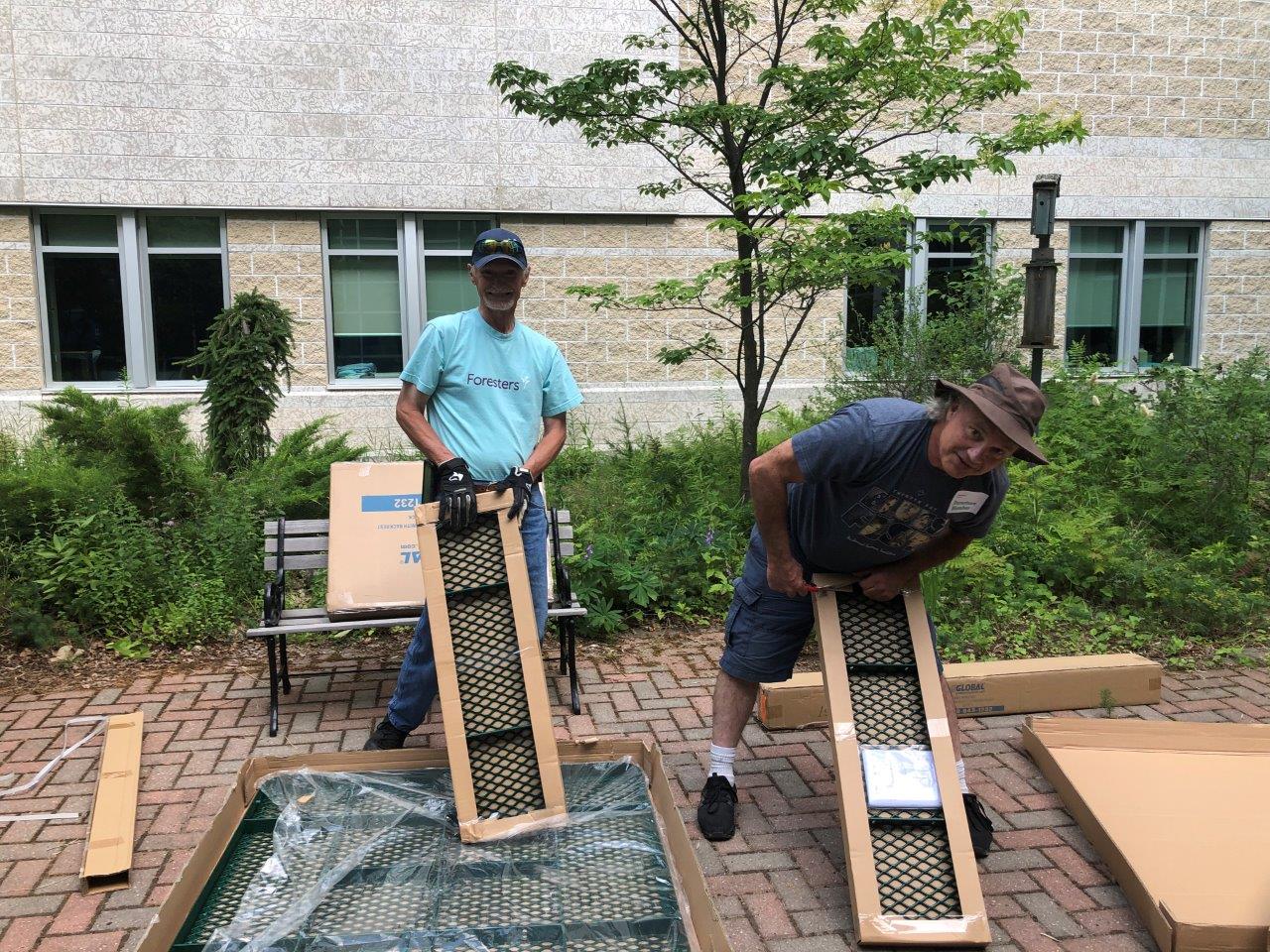 Members of Foresters Financial Lakehead Legacy work on putting together a new picnic table for the Courtyard at the Health Sciences Centre. They've donated over $45,000 to support several departments and to make trips to the Health Sciences Centre more comfortable.
Having a comfortable spot to sit down can never be underestimated. Thanks to Foresters Financial Lakehead Legacy, the Health Sciences Centre now has two new spots where one can pause and find a spot to sit outside.
Recently they installed a new bench at the East Entrance, along with picnic tables in the ground floor courtyard; an especially lovely spot to sit in the summer and enjoy the surrounding gardens.
Kevin Herman, Canada Regional Councillor from Foresters Financial remarked, "We're always very proud to give back to the Health Sciences Centre. We know the benches we installed last year are really well used, so it was an easy decision to add more."
Altogether Foresters Financial has given over $45,000 to several areas of the Health Sciences Centre including Paediatrics, the Cancer Centre and, most recently, to items that can make a trip to the Hospital more comfortable. "We've installed benches, but we also continue to assemble comfort kits for the Emergency Department," said Herman. "The kits, which include basic hygiene items, have been very well received by both staff and patients. It's nice to know we're making a difference!"
Foresters is a member-based and community spirited Fraternal Benefit Society that operates in Canada, the United States and the United Kingdom.

Foresters Financial and Foresters are trade names and trademarks of The Independent Order of Foresters (a fraternal benefit society, 789 Don Mills Road, Toronto, Canada M3C 1T9) and its subsidiaries.

416745 CAN (09/18)