Ontario Investing $5.2 Million to Bring Cardiovascular Surgery Services to Northwestern Ontario
Published Monday, August 30, 2021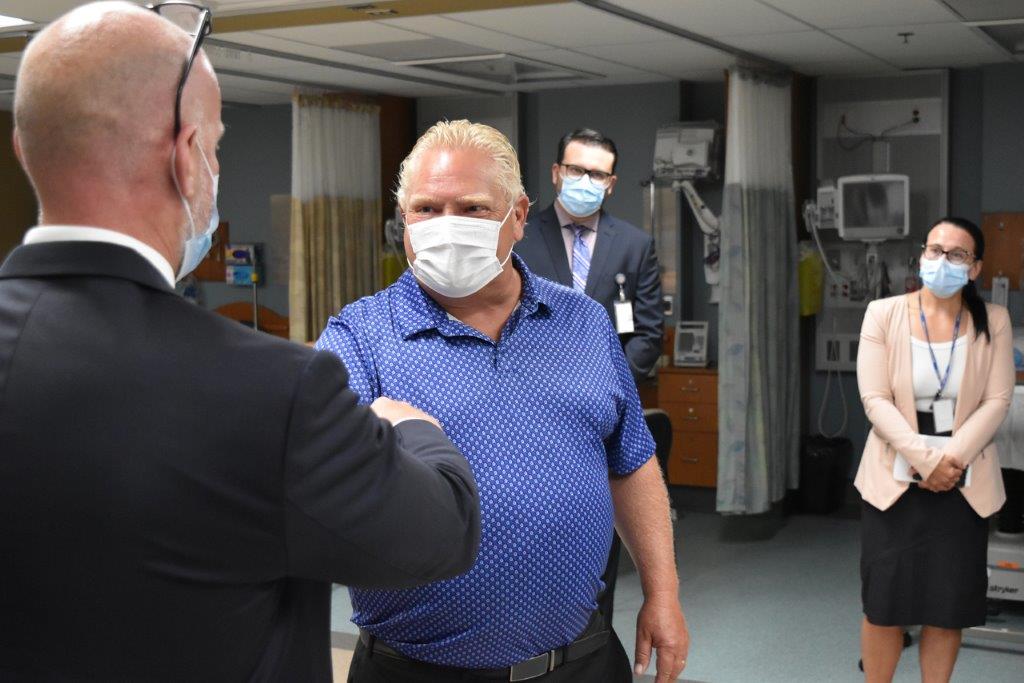 Premier Doug Ford fist-bumps staff as he tours the Cardiac Catheterization Lab at Thunder Bay Regional Health Sciences Centre.
---
Ontario Premier Doug Ford and Minister Greg Rickford visited Thunder Bay on Tuesday, August 24 to announce $5.2 million funding for the planning & design of Thunder Bay Regional Health Sciences Centre's Cardiovascular Surgical (CVS) program. With the announcement, the province is renewing its commitment to helping bring these vital, life-saving services to Northwestern Ontario.
"It was great to have the Premier and Minister Rickford visit our Hospital and recognize the momentum we have and the needs of our communities," said Rhonda Crocker Ellacott, President and CEO of Thunder Bay Regional Health Sciences Centre, and CEO, Thunder Bay Regional Health Research Institute. "They personally gave me their commitment to our CVS program and the people of Northwestern Ontario. Many people within our organization have been working hard on this for a number of years. So, this is fantastic news for us at a time when we are finishing up our Strategic Plan."
Paul Fitzpatrick, Chair of the Our Hearts at Home Cardiovascular Campaign, welcomed the announcement and commended campaign donors for their role in bringing these services to Thunder Bay.
"I truly believe that this day would not have come without the support of all our generous donors to the Our Hearts at Home Cardiovascular Campaign," Fitzpatrick said. "Demonstrating community and regional support of this project went a long way to showing our provincial government partner how important having the Cardiovascular Surgical program here in Northwestern Ontario is to us all."
Fitzpatrick said the CVS program will improve healthcare here on many different levels, addressing the need for cardiovascular surgical services in the region.
"Northwestern Ontario has the highest rates of cardiovascular disease, amputation, and other cardiac- and vascular-related health issues. With this announcement, we will be able to bring full cardiovascular surgery options to Thunder Bay to improve health outcomes and quality of life for our patients."
Over the past few years of this journey, we have realized many successes of a full vascular surgery program. This new provincial funding will support the planning and design of the next phases, which will both enhance vascular surgery and allow us to implement cardiac surgery. Provincial dollars combined with generous community donations through the Our Hearts at Home Cardiovascular Campaign will help build and equip the operating rooms, inpatient beds, and Critical Care beds needed to support the full program.
Dr. Matthew Ingves, a vascular surgeon at the Health Sciences Centre who was born and raised in Thunder Bay, said that the new CVS program will be able to perform most cardiac surgeries right here.
"For most patients, they'll be able to have their surgeries without having to travel away from the region," Dr. Ingves said. "There will be specialized cases that will still need to go to Toronto or elsewhere – it makes sense in terms of patient safety to centralize services for the most complex cases. But the majority will be able to access the same CVS services and level of care in Thunder Bay."
One of the most exciting aspects of the new CVS program is that there is so much new happening in the world of cardiac surgery. Minimally invasive procedures and even robotics are taking a more predominant role. In fact, the whole idea of "open heart surgery" will likely become a more specialized procedure. The program that will launch in the coming years will look much different from when planning started in about 2015.
No matter what it looks like, our community can be proud of the progress we've made so far. Our generous donors continue to help us reach our vision of full cardiovascular surgical services, closer to home.
We can see the finish line, but we're not there yet! Please support the Our Hearts at Home Cardiovascular Campaign by making your donation today online at healthsciencesfoundation.ca/donatenow or call our Donation Centre at (807) 345-4673. You are literally saving life and limb.