Joyce's Journey
Published Monday, December 23, 2019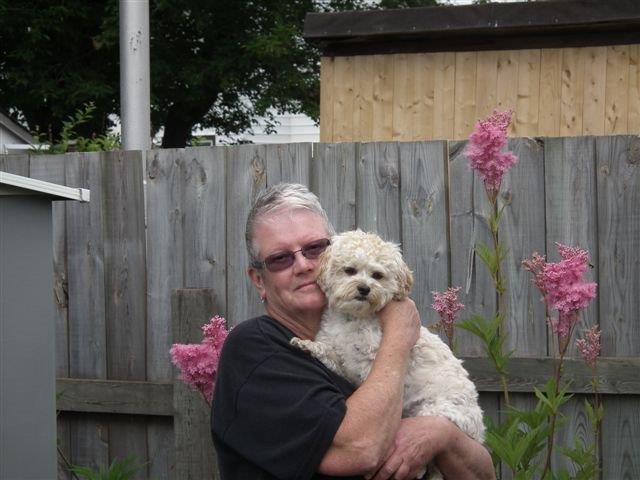 Joyce Carlson, with her beloved dog, Bella. Joyce recalled her harrowing trip to Toronto to receive quintuple bypass surgery. She is excited that a full cardiovascular surgery program will soon be available in Thunder Bay, so others will no longer need to make the journey away from home.
---
Imagine this. You're scared of heights, you've never flown on a plane before and you've just been told you need to fly to Toronto for life-saving cardiac surgery.
That was the situation for Joyce Carlson last spring, when an angiogram revealed she'd likely had a heart attack and needed cardiac bypass surgery and quickly. "Your mind just goes into overdrive," she recalled. "I knew my husband wouldn't be able to join me as he had health problems of his own after recovering from lung cancer."
Joyce ended up making arrangements with her nieces who live in the Greater Toronto Area to meet her at the airport and accompany her to a hotel downtown prior to being admitted. "My first time flying was nerve wracking, and to have to do it alone made it worse. However, I got a window seat, and it turns out it wasn't that much different than taking a bus. I was glad to be back on the ground though!"
Once in Toronto, Joyce was admitted to the Peter Munk Cardiac Centre where she underwent quintuple bypass surgery. It turned out the surgery was just the beginning of a long and terrifying several days.
"When I woke up from surgery, I couldn't breathe," she recalled. "On the second and fourth day after, I had atrial fibrillation which is an irregular heartbeat so that needed to be taken care of. On the third day, they took out my catheter and I got a urinary tract infection. I was also put on metformin for my diabetes, which I normally handle through diet and exercise. Well that medication gave me diarrhea and I ended up with E. coli. It was so bad I couldn't make it to the bathroom. Finally, I got a lung infection and had to go into isolation."
"The worst part of all of this was that my niece was only able to visit a little over her lunch breaks and my poor husband was left back at home worrying about me," she said. "I remember I couldn't even call him because my phone died and there was nowhere to really plug it in amongst all the equipment surrounding me. He was so worried about me he just about tried to drive down to Toronto but thankfully my niece managed to get him to stay put."
"Being in isolation was quite lonely. You're by yourself for hours a day and it's rough," Joyce said.
The plan for her discharge from Hospital kept being changed over and over and over. "My niece would book a night at the Chelsea Hotel because we were prepared for me to be discharged, and then things kept happening to me that set back that date. Thankfully the hotel was extremely understanding about the reason for the change, and eventually, I got out," she said.
"I think one of the scariest parts of the whole trip was the afternoon I spent by myself in the hotel after I left the Hospital," she recalled. "My niece had to go back to work and wasn't able to join me until later that evening. I kept wondering what would happen if something went wrong while I was by myself in the hotel."
"Of course, as luck would have it, the Raptors had their celebratory parade right outside the hotel and it was extremely noisy that night so I couldn't sleep," said Joyce. "All I wanted was some rest as I was absolutely exhausted at that point."
The next day, thankfully, Joyce was able to fly back to Thunder Bay and finally be back in her own home.
"Honestly, if I hadn't had family down in the Toronto area to help me, I wouldn't have gone in the first place," she said. "And even then, having gone through what I went through, I don't know that I'd do it again if I had to. It was really, really hard."
"I know that, if I would have been able to have the surgery here, it would have made such a difference," she said. "If I had been here, I wouldn't have had to ask my niece to take time off work. She had to help me a lot, especially with reading paperwork. Family and friends could have brought me stuff to eat and my husband could have been with me most of the time. There's even little things like wondering who's going to take care of the dog when you have to leave town suddenly. Our Bella has separation anxiety and she wouldn't do well in a kennel environment."
Concluded Joyce, "When I think about a future where people won't have to leave for cardiac surgery, it makes me really happy. The procedure itself is stressful enough without everything else being added on top of it. At least if I had been home when I was discharged, I could have come home to my own bed instead of staying in a hotel with cheering crowds outside. There really is no replacement for home and you can be sure I'll be celebrating when we have this surgery available locally."
You can make cardiovascular surgery a reality!
Donate at:
OurHeartsAtHome.ca
or call 345-4673