Giving Tuesday Brings Northwestern Ontario One Step Closer to Cardiovascular Surgery
Published Monday, December 9, 2019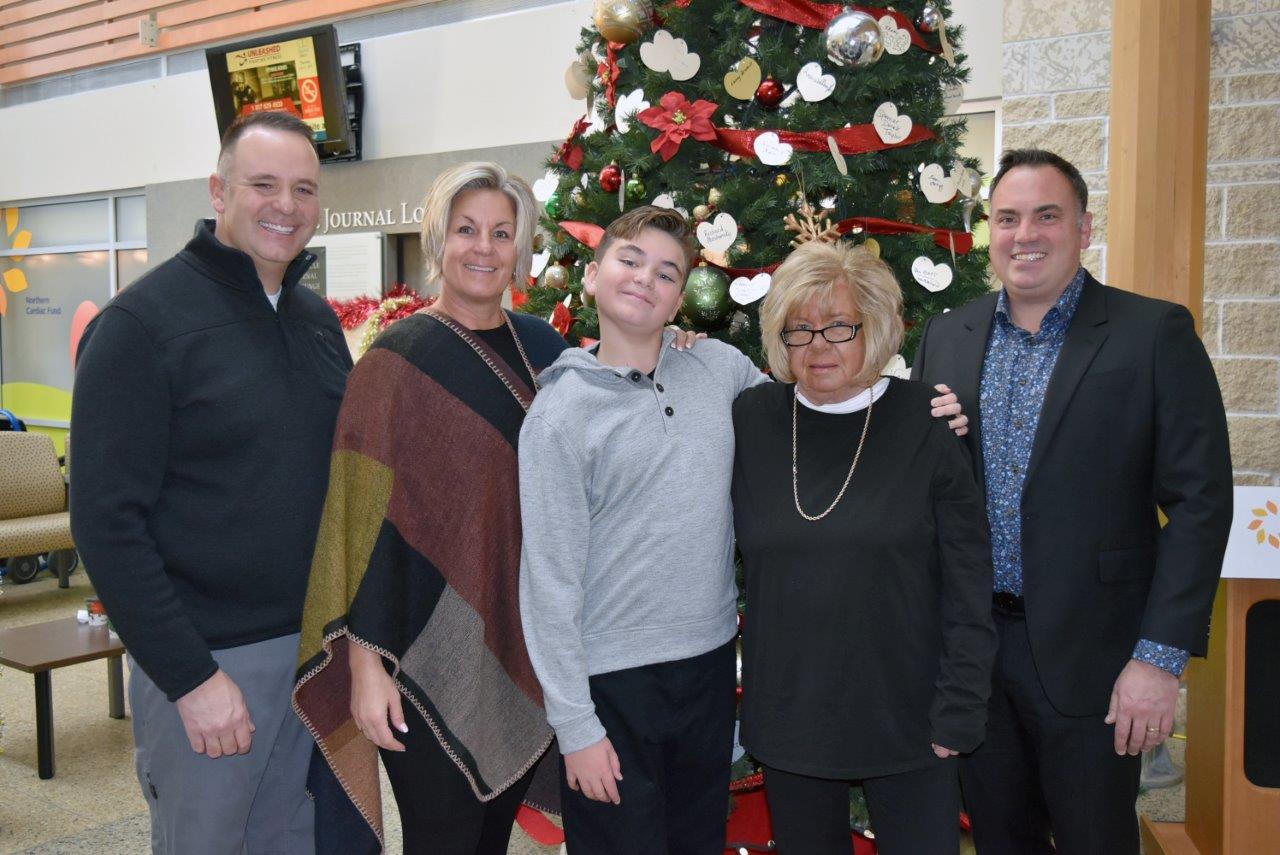 Donations on Giving Tuesday, totaling $71,141.25, were celebrated on Thankful Thursday. Thanks to generous donors from across our community, enough was raised to fund three Open Heart Instrument Trays for cardiac surgery as part of the Our Hearts At Home Cardiovascular Campaign. Celebrating the great news are - from left to right - Jedd White, Jessica White (who went away for open heart surgery eight years ago), Chipp White, Marilyn Boyle (Jessica's mother) and Dave Grady, Member of the NextGen Cabinet, Our Hearts at Home Cardiovascular Campaign.
---
Your Donations Continue to Make a Difference for Families this Giving Season
Giving Tuesday – this year held on December 3 - is an international day of giving, taking place directly after the sales of Black Friday and Cyber Monday. It's a day where people rally behind and support their favourite causes. The Thunder Bay Regional Health Sciences Foundation used the excitement of the day to kick off the season of giving with a goal; raise $40,000 in 24 hours - enough to purchase two Open Heart Instrument Trays to be used for cardiac surgery in the Operating Room at the Thunder Bay Regional Health Sciences Centre. The instruments in these trays will be used by surgeons when healing hearts during open heart surgery. Altogether, thanks to the generosity of donors, $71,141.25 was raised, of which $64,172.25 was directed to the Our Hearts At Home Cardiovascular Campaign to fully fund three Open Heart Instrument Trays.
"We're extremely grateful to our community for coming together on Giving Tuesday to support these essential pieces of equipment for the Operating Room and I'd like to express our sincere thanks," said Dave Grady, NextGen Cabinet Member, Our Hearts At Home Cardiovascular Campaign. "When you realize how much our region needs local access to cardiovascular surgery, it becomes evident that we need to stick together and make this program possible. Knowing that each donation made to this campaign will ultimately mean that 1,000 patients and their families will be able to stay home for this life- and limb-saving care is very meaningful."
For Jessica White, having cardiac surgery at home would have made a tremendous difference. "Eight years ago I was diagnosed with an atrial septal defect or a hole in my heart. I had to travel to Hamilton for my surgery and leave my husband Jedd behind to care for our two young sons who were only 6 and 4 at the time. The boys didn't really understand too much about what was happening, but they do recall it. My son Chipp told me recently it was really hard when I was away because we'd snuggle every night before bed, and I wasn't there to do that. He said he cried a little every night for the few weeks I was away. Apparently my son Gunnar also came into our room one morning to ask my husband very seriously if I was coming home since I'd been away for some time. He told my husband 'tell me the truth'. That was pretty heartbreaking to hear."
Continued White, "Luckily my parents lived close to Hamilton so they were able to be with me, and my Mom accompanied me home to Thunder Bay. This experience is one that no one should have to go through alone, and definitely not so far from home. As a mother to two young kids at the time, it would have been so much easier for me and my family to have this surgery here. I'd like to thank all the donors who've already given to this campaign. I'm hoping that those who haven't given yet will join our family in making a donation to support cardiovascular surgery to Northwestern Ontario."

Arlene Thomson, Senior Director, Cardiovascular Program Development and Implementation at the Thunder Bay Regional Health Sciences Centre emphasized how much of an impact donations will have. "As we continue to develop both the vascular and cardiac surgery programs, we have a great need for funds to cover the cost of all the new and very specialized equipment required for these surgical programs. Thanks to the generosity of donors, we will expand an existing Operating Room to be used for cardiac surgery and equip it with critical equipment like the Open Heart Instrument Trays; develop a new dedicated Operating Room for vascular surgery and equip it so surgeons can perform minimally invasive surgery; build a new 14 bed 'step-down' recovery ward for patients after they have surgery and build a vascular laboratory and clinic area to provide vascular ultrasound, post-operative care, wound care and other services to inpatients and outpatients."

Donations to the Our Hearts At Home Cardiovascular Campaign are gratefully accepted:
Online: healthsciencesfoundation.ca/christmas
Phone: 807-345-4673
In person: at the Donation Centre inside the Thunder Bay Regional Health Sciences Centre
(next to Robin's)
By mail: Thunder Bay Regional Health Sciences Foundation, 980 Oliver Rd, Thunder Bay, ON P7B 6V4

Together, we're healing our hearts at home.