Bearskin Airlines Hope Classic Aptly Named
Published Wednesday, February 12, 2020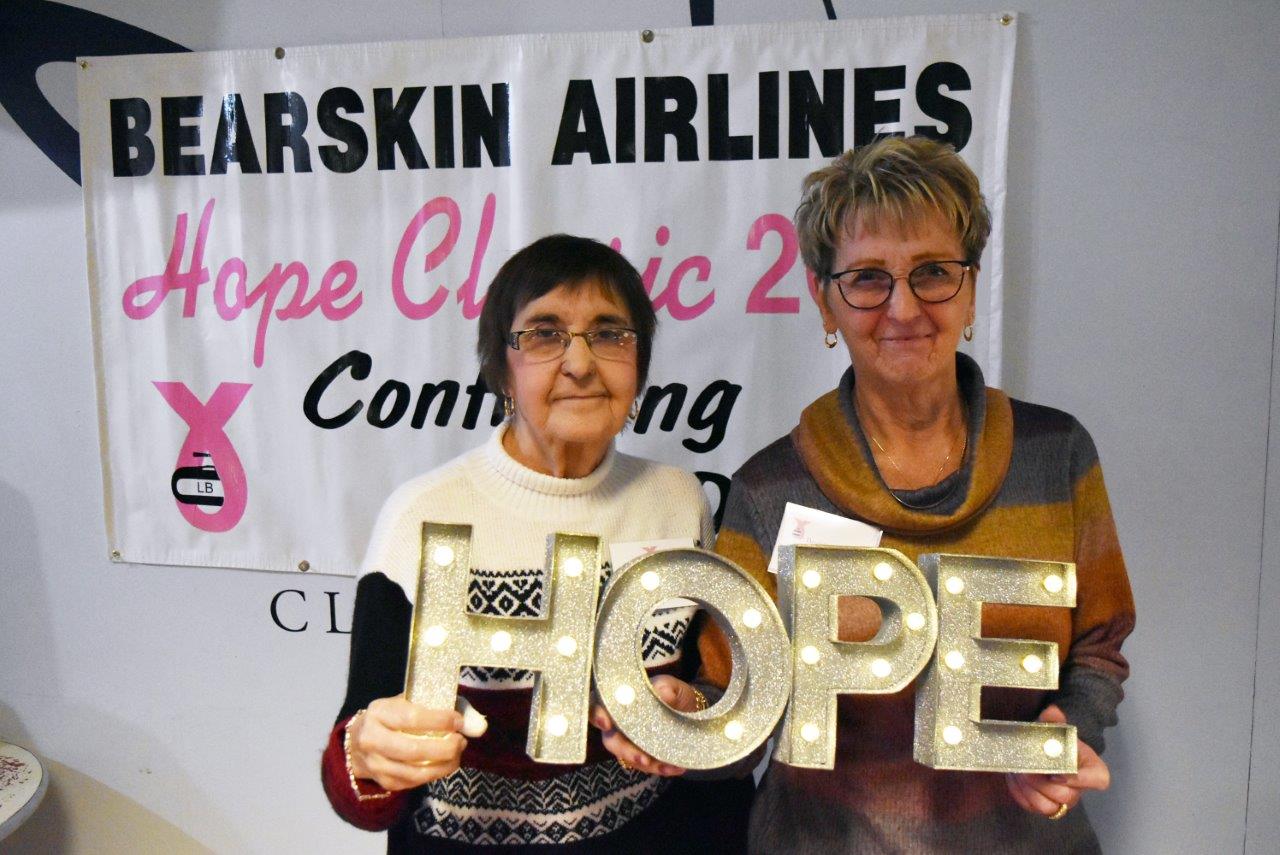 Glenice Quesnelle (left), a 33 year cancer survivor, and Sue Childs (right), one of the organizers of the Hope Classic, highlight what the event inspires for women with breast cancer. Says Glenice, "I am living proof there is hope as a cancer patient."
---
"Hope" is what this curling bonspiel for women inspires for breast cancer patients. One such patient is Glenice Quesnell who, at age 81, is a 33 year cancer survivor. Speaking at a media event for this year's bonspiel, Glenice said "I know there's hope out there in the fight against breast cancer. I am hope. I really feel that."
Her hope has stayed strong through the other three cancers she has battled since her initial breast cancer. Glenice credits her strong faith and the help of good family and friends for her perseverance. She credits what she calls "our great cancer clinic" and its state-of-the-art equipment for her survival.
The Bearskin Airlines Hope Classic curling bonspiel for women, which celebrated its 24th year this year, raises money for the Linda Buchan Centre for Breast Screening and Assessment. The Centre is currently looking to replace an older mammography machine with a tomosynthesis unit which produces a 3-D image of a breast to better detect cancer.
The 200 curlers at this year's event raised $117,200, adding to the $3.3-million it has raised since it started.
Sue Childs, one of the Hope Classic organizers, says to expect an extra special event next year. It will be the 25th anniversary of carrying on their friend Linda Buchan's dream to put an end to breast cancer. Linda, who had breast cancer, started the event with friends in 1997. She passed away in 2002.
This bonspiel is probably one of the most popular women's bonspiels in Thunder Bay, and the best part is that all money raised stays in Northwestern Ontario. If you would like to donate to the fight against breast cancer, visit www.healthsciencesfoundation.ca/northern-cancer-fund or call 345-4673.