Lady Luck
Published Wednesday, February 19, 2020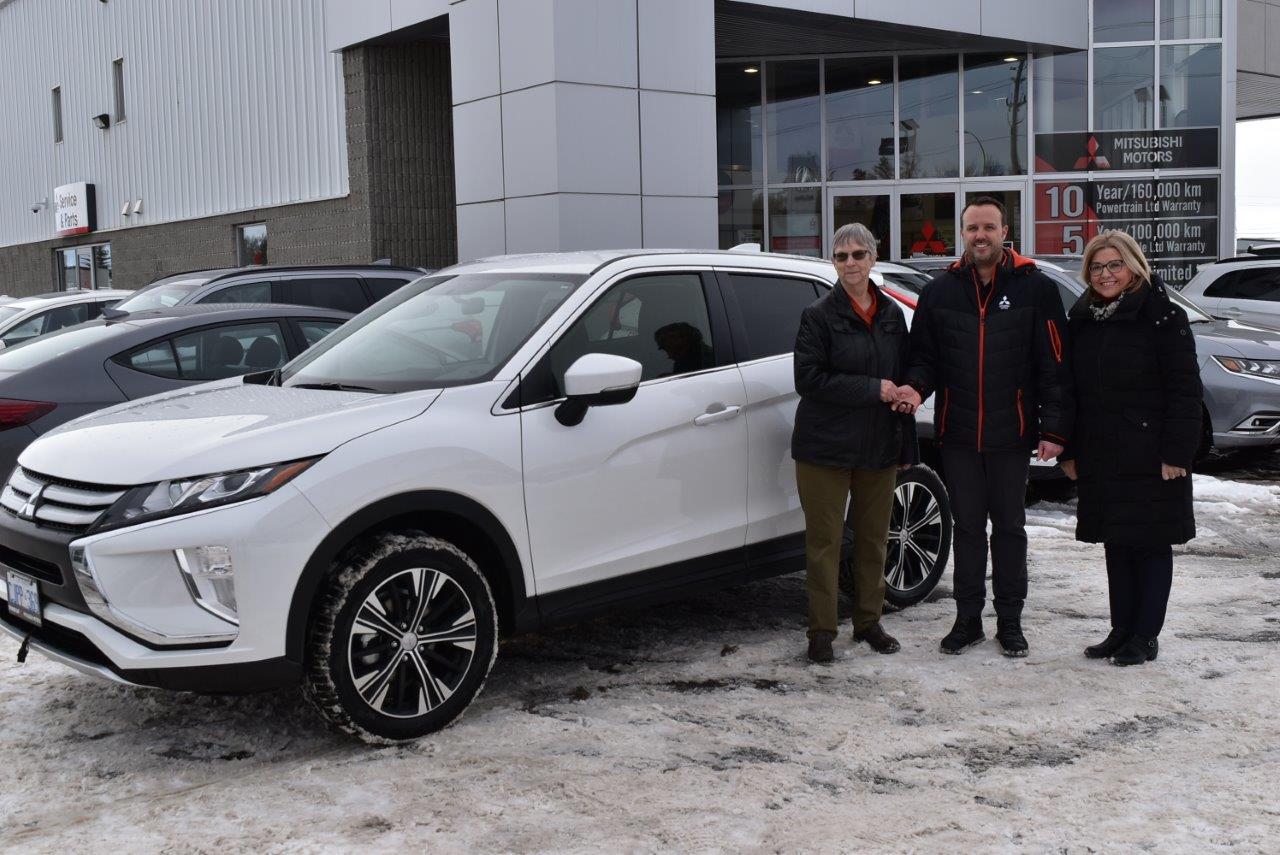 (from l to r) Godelieve Tuokkola, winner of the Save A Heart Car Raffle, receiving the keys to her new 2020 Eclipse Cross from Thunder Bay Mitsubishi General Manager, Jeff Witiluk along with Elaine Graydon, Health Sciences Foundation.
---
January 9th was Godelieve Tuokkola's lucky day and she didn't even know it. She was the lucky winner of the popular Save a Heart Car Raffle, and her prize was a 2020 Eclipse Cross (a $35,600 value) donated in full by Thunder Bay Mitsubishi.
Her husband received the call with the good news when Godelieve was out of town. When he picked her up at the airport he announced that they were going out to dinner to celebrate. Godelieve responded "okay, great" to which her husband responded "you didn't even ask why!" She said, "I thought it was because I was back home." He then told her that she had won the car. She was absolutely thrilled.
Godelieve heard about the car lottery on the radio and, since she already owned a Mitsubishi and knew where the dealership was, dropped in to buy tickets. She had actually forgotten about them by the time the draw took place. "I didn't expect I'd win. I bought the tickets, really, because the raffle was for such a good cause," she says. "Bringing heart surgery to Thunder Bay is important. Having to travel for this type of surgery is hard on the patient and just as hard on their family."
Jeff Witiluk, General Manager of Thunder Bay Mitsubishi, presented Godelieve with the keys to her prize 2020 Eclipse on January 31st. She said with a smile, "I'm keeping it for myself and handing my old vehicle down to my daughter."
The raffle raised an incredible $66,433.77 for the Our Hearts at Home Cardiovascular Campaign, to help bring full cardiovascular surgery to Thunder Bay and Northwestern Ontario. More information on the campaign and how you can donate is available at OurHeartsAtHome.ca