Bay Village Coffee Auctions Off May Porter Original Vandal Rock
Published Wednesday, February 23, 2022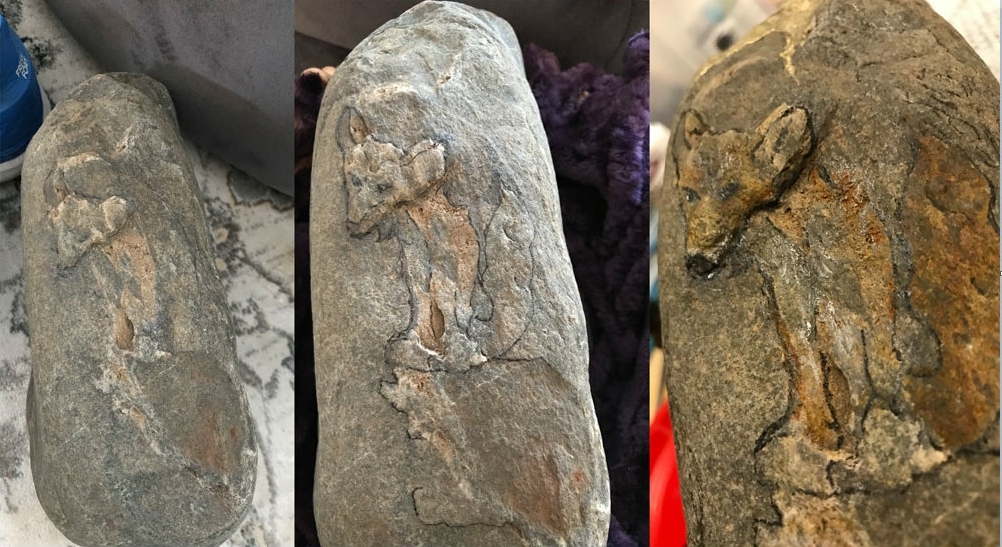 by Graham Strong
On January 13, 2022, someone broke into Bay Village Coffee by throwing a rock through the glass door. They didn't take much – some milk, cookies, and espresso syrups – but they left thousands of dollars of vandalism damage.
They also left the rock.
Bay Village owners Gary Mack and Alan Forbes wanted to turn the horrible experience into something more positive. So, they decided to auction off the rock in February and donate the proceeds to the Thunder Bay Regional Health Sciences Foundation in support of local cardiovascular care.
It's cathartic as much as anything, they said.
"When somebody breaks in, you just feel so violated," Gary said. "And you can't help but feel a little angry about it – it was a very expensive cleanup."
"It made us feel better about the experience because we can turn around and do something good with this," Alan said.
They asked Thunder Bay artist May Porter to paint it for them. May has a long history at Bay Village – her paintings have hung on their walls since they first opened.
"She is such an awesome person," Alan said. "Her style is something else, too. What she's creating is way more than a painted rock."
Way more, indeed. Rather than simply use the rock as a canvas, May highlights the contoured images already there. The rock in its current form (May is still painting as of this writing) contains two human faces, a fox, a squirrel, a moose, a mouse, and a smiling sun.
"I'm literally finding the characters in the rock," May said. "I studied it and eventually I saw faces and animals, and I painted them to bring them out the rock. Now, I can't stop seeing faces!"
It's been positive for May, too. She said that before the project, she felt creatively blocked. Now, her mind is opening to new possibilities for her artwork. "I'm thinking come summer, I'll be found down at the shore looking for crazy rocks. I'm liking what I'm seeing." She will also be illustrating some children's books later in March.
May has a history with the Foundation, inviting patients waiting for chemotherapy treatment at Regional Cancer Care Northwest to paint on her canvas. She takes inspiration from those marks to create the finished painting before donating it to the Foundation to auction.
"I would say, 'You're welcome to leave your mark on the canvas.' Then I'd find a picture in the picture. So not everyone's mark would be visible, but every mark would be there."
May's newest project takes that idea in a whole new – and exciting – direction.
Find out how you can support local cardiovascular care by bidding on May Porter's painted Bay Village Coffee rock. Place your bids online at bit.ly/bvrockauction.