Grateful Patient
Say "Thank You" in a meaningful and lasting way.
The Thunder Bay Regional Health Sciences Centre provides world-class care to over 16,000 patients each year... patients like you. The cost of providing this level of care is greater than available government funding. That's why we need your help.
As a Grateful Patient you can support healthcare services that have a special meaning to you.
Why become a Grateful Patient?
The Foundation depends on donations from patients like you to buy better equipment, support research, improve facilities, and introduce new programs at our Hospital.
You've experienced the exceptional care provided by our physicians, nurses, support staff, and other health care providers. Please help to ensure that the same is available to your family and friends when they need it.
Whether they need access to the emergency room at 3:00 am due to a child's fever, or they suffer from a serious condition that requires surgery, you can feel good knowing that you helped ensure the very best care is here for the ones you love.
---
A Story from Dawn Sebesta, Grateful Patient
I'll never take my mobility for granted again.
Osteoarthritis is no joke, that's for sure. Having it in both hips almost sidelined me.
I like to consider myself a healthy person – I love to golf and exercise regularly. So when my right hip started bothering me, I figured it might just be muscular. But lo and behold, after seeing a physiotherapist, I got referred to Dr. Droll - an orthopaedic surgeon.
That's when I got the not-so-good news. I needed a hip replacement.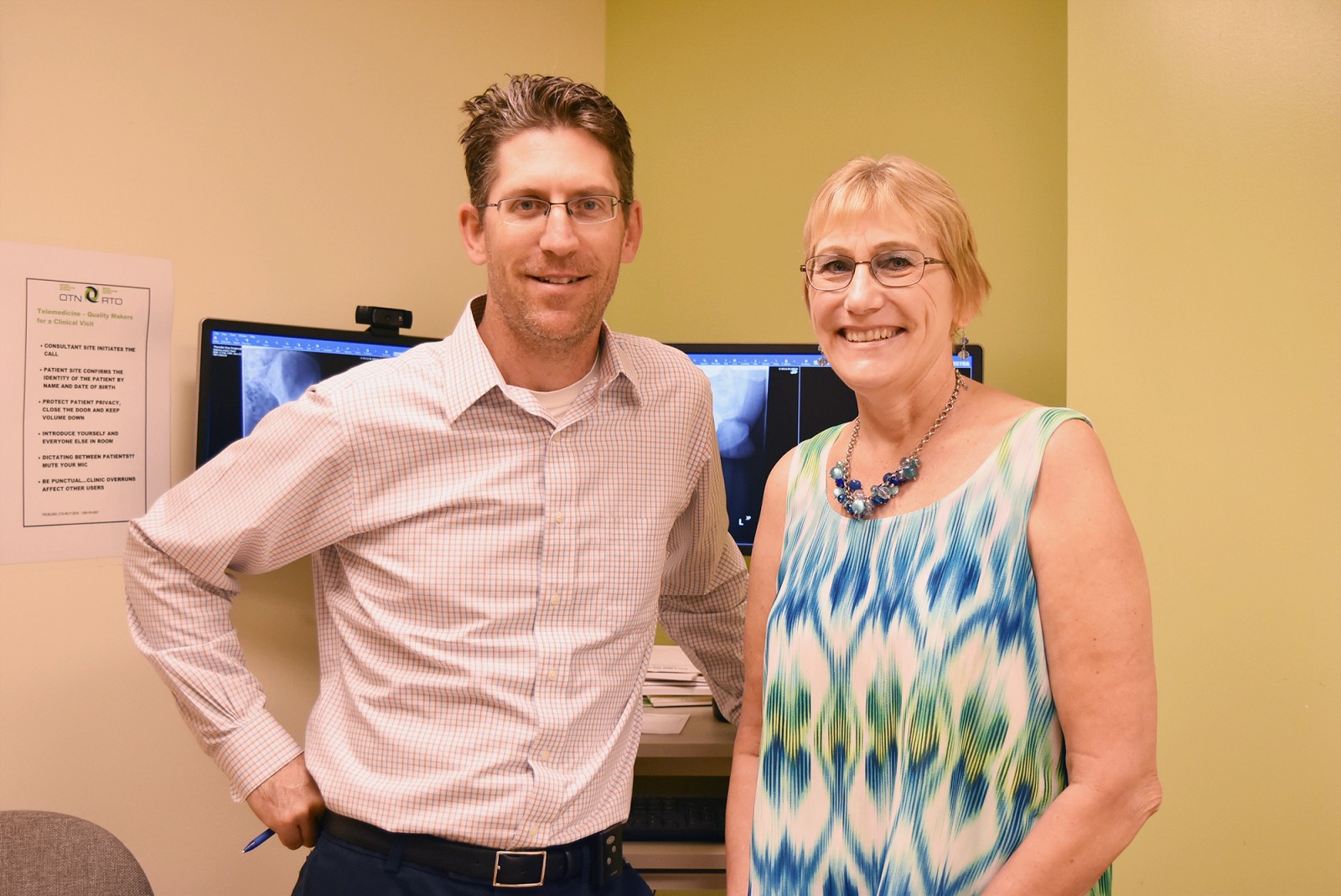 Dr. Droll and Dawn Sebesta, a very grateful patient!
A hip replacement? At my age? It seemed unreal. I mean, I'm only in my fifties. The pain I was dealing with though – that sure reminded me that something was wrong. At first, it was manageable, but as the months went on, it became crippling.
I'd go to the mall, and wouldn't even last a few minutes.
Grocery shopping? Forget it.
Cleaning my house? Not a chance.
Eventually, I couldn't even go to work.
My quality of life went downhill very, very quickly and my once-active lifestyle vanished.
As hard as it was to come to grips with needing surgery, it was even tougher to wait for it when I was in so much pain. From the time I had my initial appointment with Dr. Droll in June, to my surgery in November, my pain got progressively worse every day.
I'm sure you're like me – you don't want to be a burden to your family. You like being a productive person. You want to be independent and enjoy the life you've made for yourself. Having that all taken away is humbling. Not to mention frustrating. But that's exactly what happened to me.
Luckily, I got in for surgery quickly.
Getting my hips replaced drastically improved my quality of life. Yes, my hips - plural. Because, sure enough, about a year and a half after my right hip was done, I needed surgery to replace my left hip. Already, and I say this in amazement, just a few shorts months later, I'm almost ready to play golf again.
I can't say enough about the quality of care I received throughout this entire process – it was just incredible. Dr. Droll and his team were so calming and helpful. I was very anxious before my first surgery, not knowing what to expect. But the second time round, I wasn't nervous at all – well – much less nervous, because I knew how well I'd be taken care of.
As I begin my journey into retirement, I can only guess that I'll know more and more people who will need a joint replaced. I know that my Grateful Patient donation will benefit each of them.
I'm sure you have a story like mine. About incredible care you or a loved one received at the Health Sciences Centre. If you do, I encourage you to show your appreciation (like a Thank You!) by making a donation in honour of the team who helped you.
Together, we'll bring even better health care to Thunder Bay and Northwestern Ontario.
Thank you,
Dawn Sebesta