Donate in Your Will
Together, for Better. Forever.
A gift in your Will gives you the chance to be an enduring voice for healthcare in Northwestern Ontario.
Your belief in better healthcare for every resident of Northwestern Ontario can live on. Join us as a Health Care Guardian by leaving a gift in your Will to the Thunder Bay Regional Health Sciences Foundation, and help build a future where every resident has access to world-class care that's closer-to-home. Whether you choose to give a specific amount, or a percentage of your estate, let improving healthcare be your legacy to this community.
I would like information about making a gift in my Will
Inform the Foundation about my gift in my Will
---
Starting the Conversation
Starting the conversation about making your Will or leaving a donation to a charity in your Will is sometimes difficult, but it is a very important conversation to have. Many people feel if they talk about the "d" word – death – something bad may happen.
Speaking to a Family Member
Here are some tips to start the conversation with a family member:
Have a strategy and make time to have the conversation; do not bring the topic up during an emotional time.
Have the conversation together as a family.
Educate yourself by leading by example – having your own Will completed and telling others what you have done is a good way to start.
Don't push it – if the family member is not ready to have the conversation, don't continue. Try again at another time.
Encourage a dialogue – ask the family member for feedback and their thoughts, and be open and listen to each other.


Speaking to Your Financial Advisor
Having a conversation with your financial advisor is just as important in your estate planning.
Let your financial advisor know that you are interested in discussing options regarding your Will and charitable giving. They can assist you with your personal and philanthropic goals.


Speaking to Your Lawyer
A final conversation and meeting that you will need to have is with a lawyer, to draft and finalize your Will wishes and estate planning.
Some questions to think about in preparation for your meeting with a lawyer:
Who will be your Estate Trustee?
Who will receive the residue of your estate?
Which charities would you like to leave a donation to?
Are there personal and sentimental belongings you would like a specific individual to have?
If you have young children, who would you like to be their guardian?
Do you have specific wishes when it comes to burial, cremation, funeral arrangements, or celebration of life?
Starting the conversation may be difficult but will give you peace of mind once all is complete.
---
Leaving a Legacy of Generosity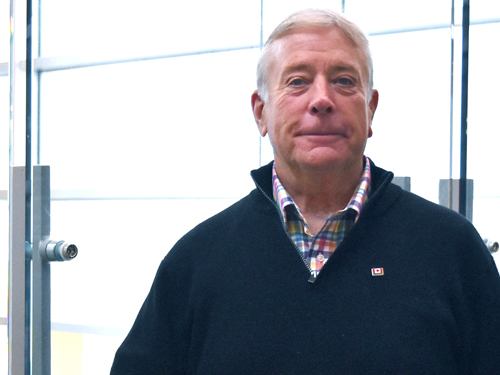 I've been really lucky in life. I've done well and I'm capable of giving, so I'm doing it," said Bill Griffis, who recently chose to leave a donation in his Will to the Thunder Bay Regional Health Sciences Foundation.
Having lived in multiple provinces, including Alberta and British Columbia, Bill returned to his hometown of Thunder Bay in 2012 to build a home on his family's property on Oliver Lake.
The solitude of the lake setting allowed him to think seriously about how he could give back to his community, and thanks to helpful advice from his lawyer, he made the decision to make a donation in his Will. "Having the advice of a professional was paramount," he said. "It allowed me to feel comfortable with the structure of the donation so that I knew that the people I love would be taken care of and that I could also direct funds to the Hospital."
Bill chose to make his donation to the area of highest need. "I trust that the Health Sciences Foundation will use my donation where it's needed most at the time. I like knowing exactly that it will support the Hospital, but as to where it goes within the Hospital – I leave that to the experts there," he said.
"I have seen how much need there is when it comes to funding equipment at our Hospitals," continued Bill. "There seems to be this attitude that our health care should be funded completely by the government. Almost a 'you owe me' feeling. I don't believe that to be true. If anything, I think we, as a community, have the ability to be much more generous."
Bill has directly benefitted from generous citizens himself. He went to Simon Fraser University on a football scholarship, which, as he said, "changed my life. The people I met there played a large role in my life going forward." He's also seen the force behind some very significant legacy gifts; he recalled a $100M donation to a College in the United States that paid for a new arena. "Obviously, we're not all capable of that level of giving," he laughed, "but the US alumni associations are brilliant and people who've gone to some of those schools share a culture of philanthropy – one that would be wonderful to mimic here in Canada."
We're fortunate that we do have some very generous people in our community," he said. "When I was thinking about my donation, I was a bit uncertain about how much I could give now. That's what led me to think about making a donation in my Will, because I knew I wanted to do something significant, and this seemed to be the best answer for me."
Concluded Bill, "I feel really good about making my donation. There's a sense of pride and satisfaction that comes with doing this. Best of all, I know when I'm gone that I'll still have the great honour of contributing to my community's health care needs."
For more information about leaving a gift in your Will, please contact Terri Hrkac:
Email Terri
or call 684-7109
** Disclaimer - any information on this website is provided for general information purposes only. It is not intended as a substistute for professional advice and assistance from your lawyer, financial advisor or tax consultant. We recommend that you discuss your plans with your lawyer and/or financial advisor before proceeding a with a gift in your Will.