Traditional Links: Cava Memorial Golf Tournament Hits the Fairway Again
Published Wednesday, July 27, 2022
by Graham Strong
The Cava Memorial Golf Tournament is a little different than most fundraisers. First of all, there's longevity. On July 16, 2022 golfers hit the links at Whitewater Golf Club for the 35th tournament. Traditionally, the golfers raise funds for a number of different local charities including the Thunder Bay Regional Health Sciences Foundation. But it's more of an annual celebration of life for Frank Cava, who passed away suddenly in 1986 as well as his brother Albert (Ab), who passed away in 2019. This year was more bittersweet than most – Jim Cava, another brother, passed away the week before the tournament.
"It's a family reunion-type tournament," said Mark Bruzzese, one of the organizers and one of the original golfers of that first tournament. "We have 20 to 30 golfers coming in from out of town just for this tournament. Guys that we've known who grew up in Thunder Bay and come back to see all their friends on a single day."
The event is loosely described as Invitation Only, though Mark said that term is informal.
"We send out about 200 invitations every year, but if somebody wants to come in, we haven't turned anyone away."
Canada Life stepped forward once again as title sponsor this year with Tbaytel, RBC, and Pizza Hut all major sponsors as well. There are also the "Friends of the Tournament" sponsors, all of which helped make the event a success.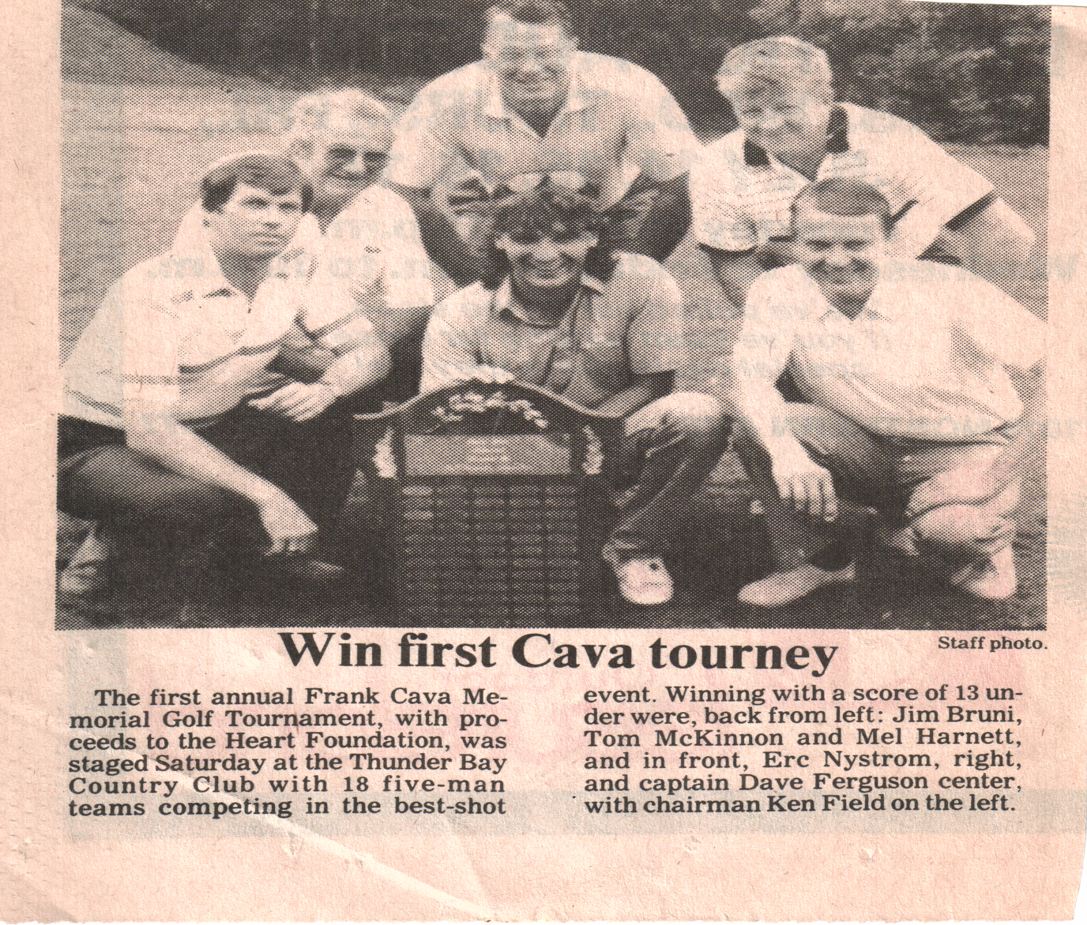 A lot has changed since that first tournament. Size is an obvious one – the event started with about 30 golfers. Lately, that number is five times larger with pre-COVID numbers reaching about 160 golfers. The original tournament in 1987 was held at the Thunder Bay Country Club, but it's since moved to Whitewater. Organizers have held the event every year since except 2020 due to COVID.
There's a lot that hasn't changed though and several traditions go on to this day. Of course, there are the dinners and the prizes. There is also an after-dinner roast very similar to the old Dean Martin Celebrity Roasts. The only difference is that the identity of that night's "guest of honour" is kept secret until the roast begins. That same spirit from the original tournament lives on: getting together to celebrate the lives of two brothers and great friends of all.
"There are a lot of great stories from over the years," he said.
Over the past 35 years, the tournament has raised over $600,000 for local charities. This year's proceeds are going to the Thunder Bay Regional Health Sciences Foundation, in support of the Ibn Sina Simulation Lab at the Health Sciences Centre. In addition, Canada Life donated $35,000 to the Our Hearts at Home Cardiovascular Campaign. In the past, the tournament has supported cancer care, cardiac care, prostate cancer support, and other areas of healthcare at the Hospital. Keeping it local is important to the group.
"Whatever we can raise, we pass it on and keep it in the community," Mark said.
Thanks to all the organizers and participants who offered their time, energy, and donations to this year's event!