CP Has Heart!
Published Wednesday, July 31, 2019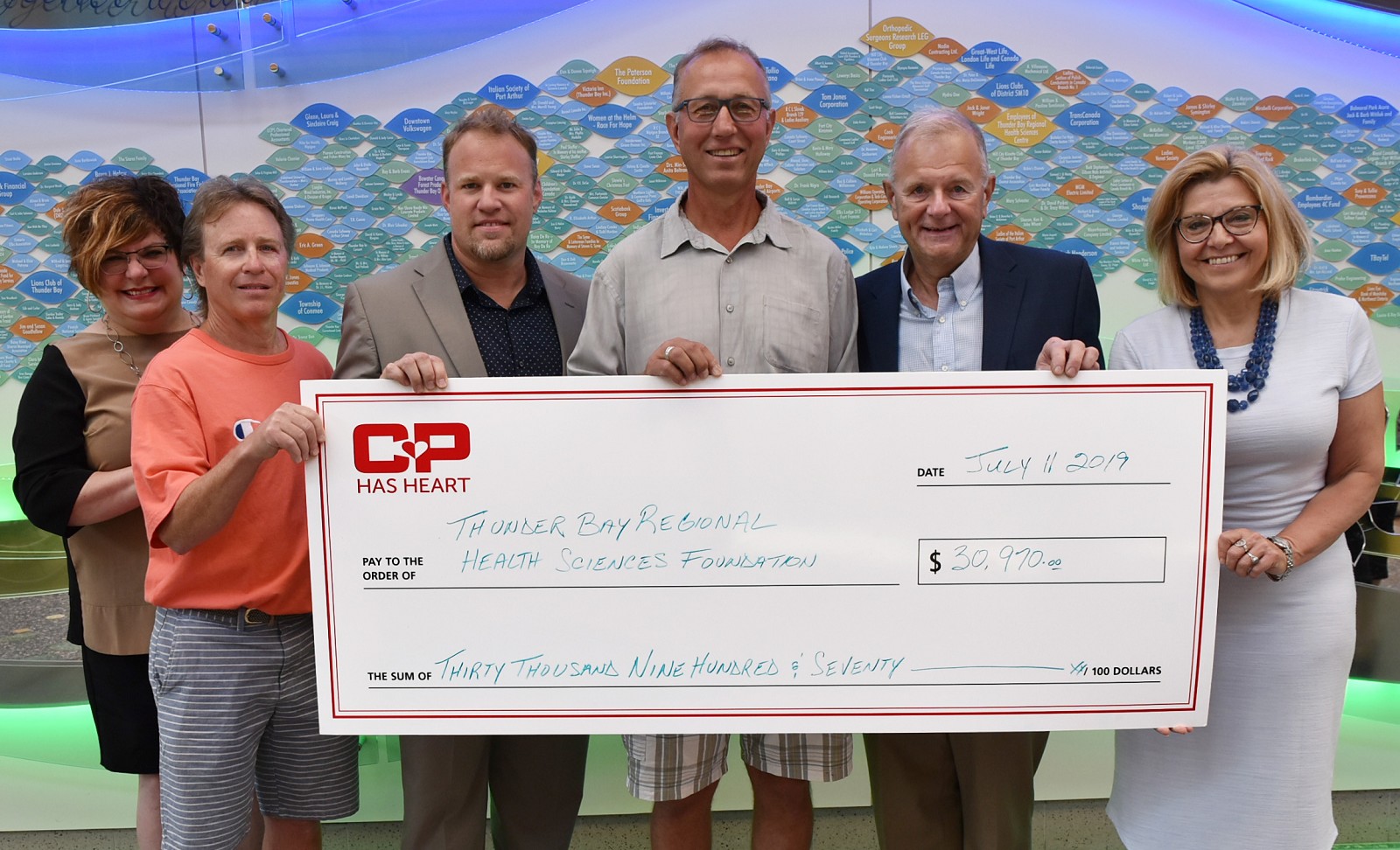 Proudly presenting $30,970 from the CP Charity Employee Hockey Tournament are, from CP (left to right), Rob Urban, Jason Inglis (Supt. Operations Thunder Bay) and Gary Krawec. Gratefully accepting the donation on behalf of the Thunder Bay Regional Health Sciences Foundation are, Karen Wood (left), Special Events Officer; Pat Bushby (2nd from right), Cabinet Member; and Elaine Graydon (right), Manager, Special Events.
Hockey Tournament Raises $30,970 for Northern Cardiac Fund
By Heather Vita
With a total of 19 teams from across the country participating, this year's CP Charity Employee Hockey Tournament was a resounding success, raising $15,485. CP generously matched this total bringing the total funds raised to $30,970, which was donated to the Northern Cardiac Fund to support world-class cardiovascular care for our community.
Tournament organizer Rob Urban from CP explained, "This tournament started 39 years ago in Swift Current, Saskatchewan, with just four teams and has grown significantly since then. It's been held in cities from Vancouver, Calgary, Lethbridge, Moose Jaw, Winnipeg and Montreal to name a few and it was a real honour to have it here in Thunder Bay this year. Our Thunder Bay team, the Lakehead Thunder Blades, started participating in 1992, making it to the finals 14 times and winning eight championships in various divisions over the years including the home town tournament."
Continued Urban, "Each year CP picks a different charity in the city in which the tournament is held. Proceeds from the tournament are then matched by CP for a final total that's presented at the conclusion. I'm very proud to say that the amount raised in Thunder Bay was the most the tournament has ever raised!"
The CP Hockey Tournament's generous donation will be used to support the ongoing development of the cardiovascular surgery program at the Thunder Bay Regional Health Sciences Centre. Once fully operational, 1,000 patients a year will have access to vascular and cardiac surgery in Thunder Bay and not have to travel to another centre, far from family and friends. Already, three vascular surgeons are helping hundreds of patients every year by providing local access to vascular surgery including endovascular aneurysm repair, as well as A/V fistulas for patients requiring dialysis.
"The tournament is something many of us look forward to each year as it's a chance to renew friendships and generate friendly rivalries between teams'' said Urban. It also feels really good, at the end of the day, to be able to give back to the communities where we play and know that we're helping make a difference."