Summertime Recipe: Blackened Fish Taco Bowls
Published Monday, July 6, 2020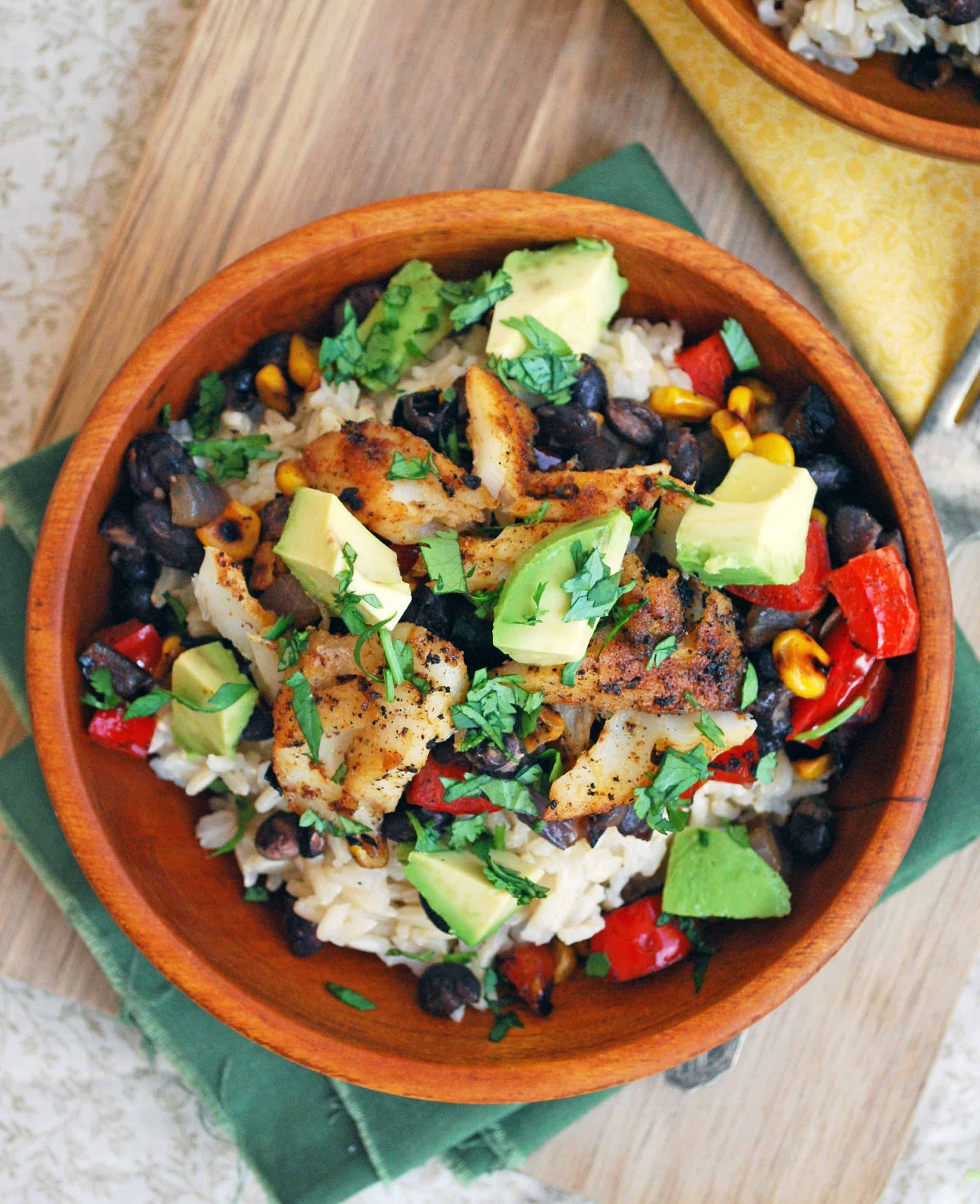 Submitted by Kim Fossum, Clerk, Infection Control and Prevention
Ingredients:
1 head cauliflower
½ avocado (pit and peel removed)
¼ cup extra virgin olive oil
1 lemon, juiced
¼ cup water
1 tbsp chili powder
1 tbsp cumin
½ tsp cayenne pepper
1 tsp paprika
½ tsp salt
½ tsp black pepper
2 tilapia fillets
¼ red onion, diced
½ green bell pepper, finely diced
2 cups black beans (either canner or cooked) drained, and rinsed
1 lime, cut into wedges
Instructions:
To create cauliflower rice, chop cauliflower into florets and add to a food processor. Process until it reaches a rice-like consistency. (Note: if you don't have a food processor, you can grate the cauliflower). Transfer into a bowl and set aside.

Create avocado dressing by combining your avocado, olive oil, lemon juice and water together in a food processor or blender and blend until smooth. Transfer into a jar and set aside.

Combine chili powder, cumin, cayenne pepper, salt and black pepper in a bowl and mix well. Sprinkle over both sides of the tilapia fillets.

Grease a large cast iron skillet with a bit of olive oil and place it over medium-high heat. Add tilapia fillets. Sear for 3 to 4 minutes per side, flip and sear for another 3 minutes or until fish is completely cooked through. (Note: Fish is done when it flakes with a fork.) Remove it from heat and chop into pieces. Set aside.

Divide cauliflower rice between bowls and top with red onion, green pepper and black beans. Add blackened tilapia, drizzle with desired amount of avocado dressing and serve with lime wedges.
*Can also serve on brown rice or quinoa instead of cauliflower rice or switch it up and use any kind of fish you have.
*Content from this article can be found in our Hospital's 2020 Staff Health and Wellness Calendar. To date, the Calendar has featured over 300 staff members from all areas and disciplines of our Hospital, capturing the many ways they choose to stay healthy.