My Doctors Saved My Life - And You Joined Me In Saying Thank You!
Published Thursday, January 23, 2020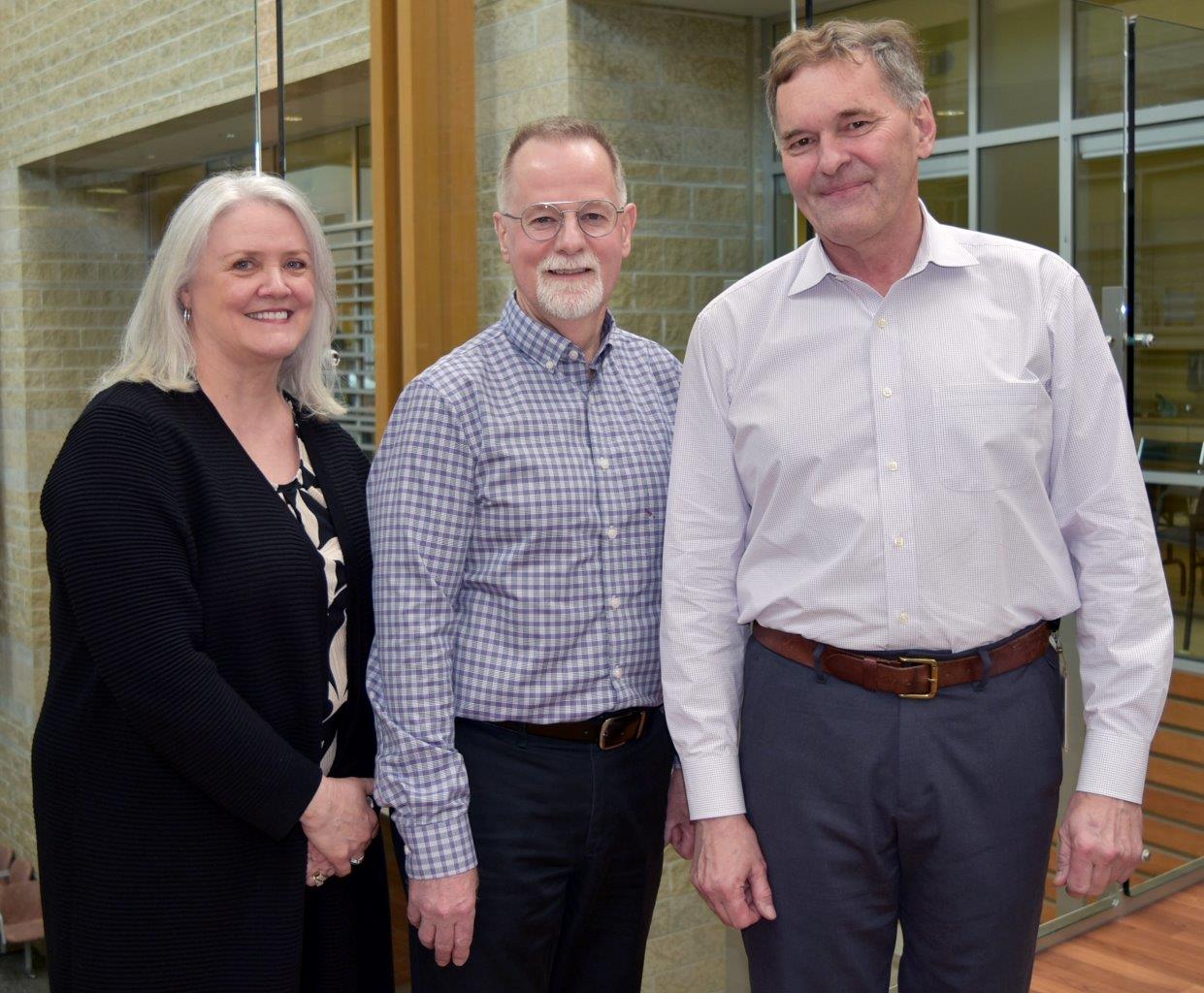 Bob Stewart (centre), with his wife Katherine Poulin, are eternally grateful to Dr. Stewart Kennedy (right) for saving Bob's life last fall. In appreciation for the care Bob received from his entire team of doctors – from Dr. Kennedy to Dr. Bagherli to Dr. Badiwala – they matched all donations made in honour of doctors, up to $25,000.
---
By Bob Stewart
I'm not sure I fully understood the meaning of gratitude until my life was saved in 2018.
Looking back, it's really a miracle that I'm still alive and it's thanks to the incredible care I received from many doctors, starting with my family doctor - Dr. Stewart Kennedy.
I am extremely grateful and I wanted a way to say thank you.
I decided, along with my loving wife, Katherine, to donate in honour of National Doctors' Day to recognize my doctors and to say thanks. And I asked you to join me in making a donation in appreciation of your care too. Your response was astounding!
However, let me back up a little.
It was a brisk, sunny day last September and I was getting ready to cycle in the Caribou Charity Ride, an event I look forward to each year. That morning, I walked into the registration area and Dr. Kennedy was there. He took one look at me and said 'You're not riding today'.
In the back of my mind, I'd sort of wondered if I should be cycling that day. While I was out walking my dog the day before, I'd felt a tightness in my chest that wasn't typical, but I'd brushed it off. It was so easy to blame stress, and I did.
Well nothing fooled Dr. Kennedy. He knew right away that something wasn't right and he told me I needed to go to the Hospital. My friend Tom drove me there and I underwent multiple tests. I recall him calling Katherine from the Hospital and, as she can tell you, she 'knew it' right away. She had actually had a bad feeling about me going out that day, thinking I hadn't been looking quite right. Needless to say, we'll both always trust our gut instincts from now on.
By the end of that week, I'd had many tests including a stress test and angiogram, performed by the highly skilled Dr. Bagherli. What showed up on the angiogram floored me. I had three blockages in my arteries – one of which was to the artery that feeds the heart. It was underdeveloped and 95% blocked. I needed triple bypass surgery and it needed to be in Toronto.
Had Dr. Kennedy not seen me the morning of the Ride and urged me to take action, that would have been, undeniably, my very last bike ride - ever.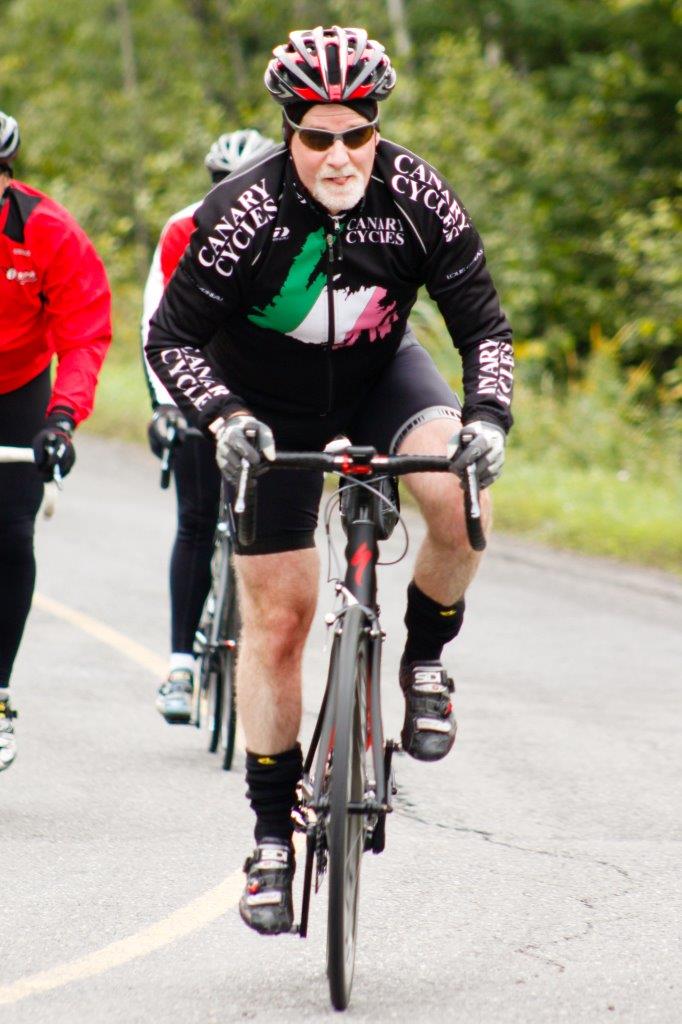 I was minutes away from taking part in the Caribou Charity Ride when Dr. Kennedy convinced me to go the Hospital instead.
I spent the next several weeks nervously awaiting the call to go for surgery. Finally it was time to go and so Katherine and I packed our bags and flew down to Toronto.
There's a lot of stress over having heart surgery but the team in Toronto was incredible, especially my cardiac surgeon, Dr. Badiwala. They were all extremely compassionate and very professional.
I'll never forget being wheeled into the Operating Room and seeing about 25 people standing there, surrounded by mountains of equipment. It struck me that they were all there for me. So, before the anesthesiologist put me under, I asked him for a moment.
I looked around the room and I sat up and said "Thank you for being here today and helping me. Let's have a great day." And then I placed my life in their hands.
I'm positive that I've never felt more thankful than I do right now, because I woke up from that surgery and have made a full recovery.
Since that fateful day in September when Dr. Kennedy saved me from going out on my bike and quite certainly having a catastrophic heart attack, I've had two friends lose their lives to sudden cardiac death.
As I sit here today and reflect, I am overcome with an overwhelming sense of gratitude for how lucky I am. I've been given more time with my family, including my wife, our two daughters and our grandchildren. Time that I almost didn't get.
In appreciation for the care I received, my wife Katherine and I committed to match donations made in honour of doctors, up to $25,000.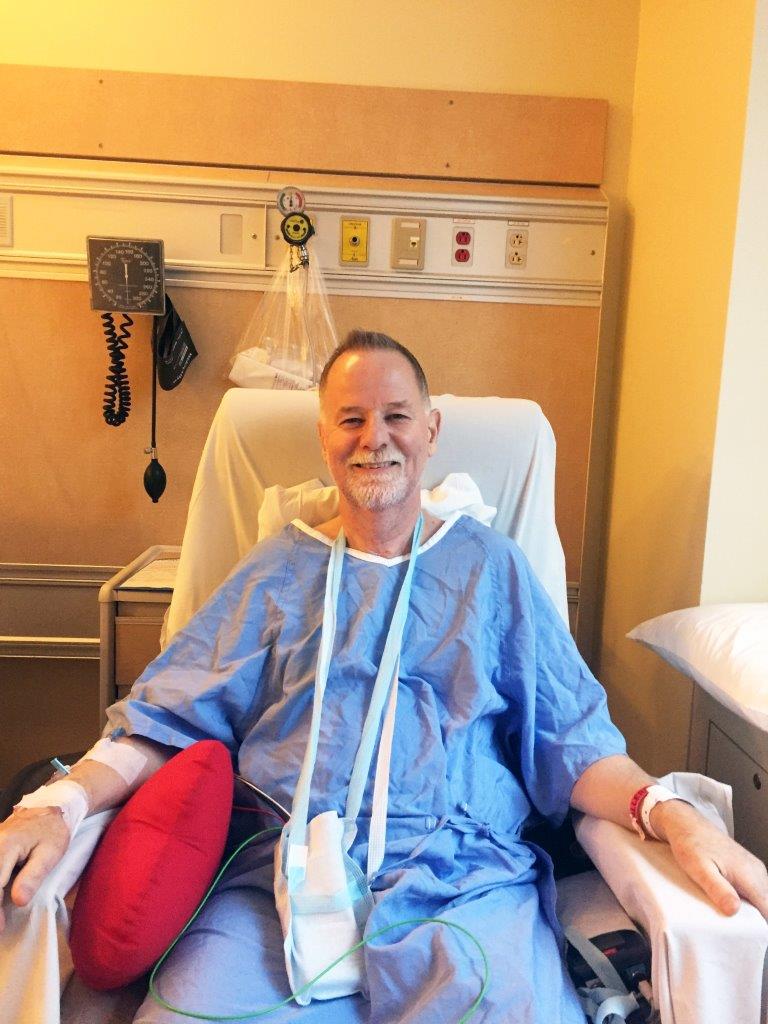 I'm positive that I've never felt more thankful than I do right now, because I woke up from that surgery and have made a full recovery.
Will I ever be able to repay the doctors who saved my life? Certainly not. There's really no price that can ever be put on that. However, I know that every donation made in honour of doctors will support the vital medical equipment they require to save lives each and every day. I can't think of a better way to say thank you than to make sure the next person they see has the same life-saving care that I received.
Together, you donated $41,678 to thank doctors and medical professionals who made an impact on your life, and Katherine & I were thrilled to matched that up to $25,000, bringing the total to $66,678 raised! Your donations will fund vital medical equipment at our Hospital, to save our loves ones when they need it most.
Thank you!
- Bob