Naturally Improve your Mood
Published Monday, May 11, 2020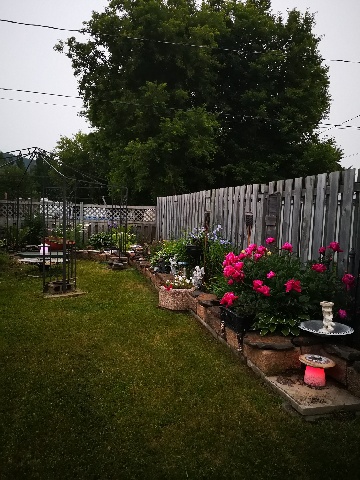 This beautiful garden belongs to Irene Pawluk, a Housekeeping Attendant in our Hospital's Emergency Department. Irene has been a life-long avid gardener and enjoys growing flowers and food. She shares some of her canned goods from her garden with some of her lucky coworkers. This year, Irene's goal is to add a fairy land to her garden.
---
By Vanessa Masters, Prevention and Screening Services, Thunder Bay Regional Health Sciences Centre
Plants are essential for our planet and all living things. Exchanging carbon dioxide to create oxygen is a vital role that they play but they also play a more subtle role with big impacts on our health. Studies show that flowers have an immediate impact on happiness and can also have a long-term impact on bettering mood. Just seeing flowers and plants in your home or other environments, such as hospitals, can have these effects. Flowers also increase positive energy levels and help people feel secure and relaxed. With knowing these benefits, why not grow a garden this year?
Here are some helpful tips:
Determine the size of your garden so you know how much planting space you have and how much soil you will need. Be mindful of how much time and energy you should give to your garden before you finalize on the size.

Before you plant, look at the seed packages or flower tags to determine how much space you will need, and make a blueprint to follow. Some flowers and plants will grow wide and need a lot of space and attention, while others will be smaller with less time needed. Save your blueprints and notes so you can plan for the following year. Take photos of your garden and compare them against your blueprints as a better comparison for future decisions.

Plant when the soil is dry enough after the spring melt. It should break down into fine particles. Be sure to check the weather forecast for a couple weeks in advance since there is always a spring snowfall to be aware of.

Get rid of the first crop of weeds before you start planting. It's easier to pick them while they are young before their roots develop. It is important to pick even the small weeds so that they don't continue to grow and over run your garden.

Make sure you take the time to tend to your garden. Depending on the size and types of plants and flowers that you have, the commitment will vary but be sure to give it the attention it needs to get the best results.

If you are looking for more information from our community's most knowledgeable group, follow the 'Master Gardeners Thunder Bay' on Facebook. Or visit their website: www.tbmastergardeners.homestead.com.

*All content from this article can be found in our Hospital's 2020 Staff Health and Wellness Calendar. To date, the Calendar has featured over 300 staff members from all areas and disciplines of our Hospital, capturing the many ways they choose to stay healthy.