Thunder Bay Regional Health Sciences Centre Taking Part in Accreditation in May 2022
Published Tuesday, May 10, 2022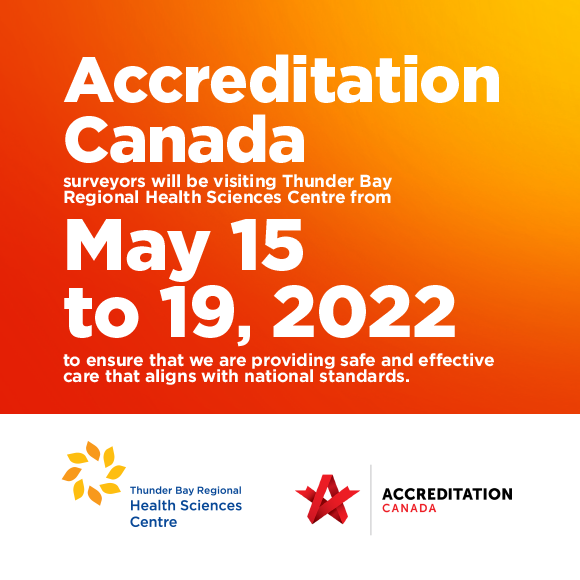 By Raiili Pellizzari
From May 15th to 19th, 2022, four surveyors from Accreditation Canada will be on site at Thunder Bay Regional Health Sciences Centre (TBRHSC) as the hospital takes part in accreditation.
Accreditation is a continuous process, occurring every four years, where health care and social services organizations are assessed against national standards of quality and safety. Accreditation provides organizations an independent assessment of what is being done well and what areas can be improved. In 2018, TBRHSC was awarded Accreditation with Commendation from Accreditation Canada.
Accreditation Canada is the major national accrediting body across all health sectors in Canada. This independent, non-profit organization's mission is to help health, social and community service organizations to advance quality of services and safety.
While on site, the survey team will interact with frontline staff, patients, volunteers, leaders, community partners, as well as the CEO and the Board of Directors. The surveyors will assess against both organization wide and service-specific standards (19 in total) including leadership, governance, clinical programs and services.
Accreditation is one of the ways in which TBRHSC publicly demonstrates accountability and ongoing commitment to continuously improve services for patients and families of Northwestern Ontario. This important process helps create better health care for you, your family, and our community.
When you see the Accreditation Canada seal, you can be certain that TBRHSC is working hard to meet accreditation standards to deliver safe, high-quality care; because better quality means better health and shows our commitment to providing exceptional care for every patient, every time.