New 3T MRI Provides Countless New Imaging Opportunities
Published Wednesday, September 28, 2022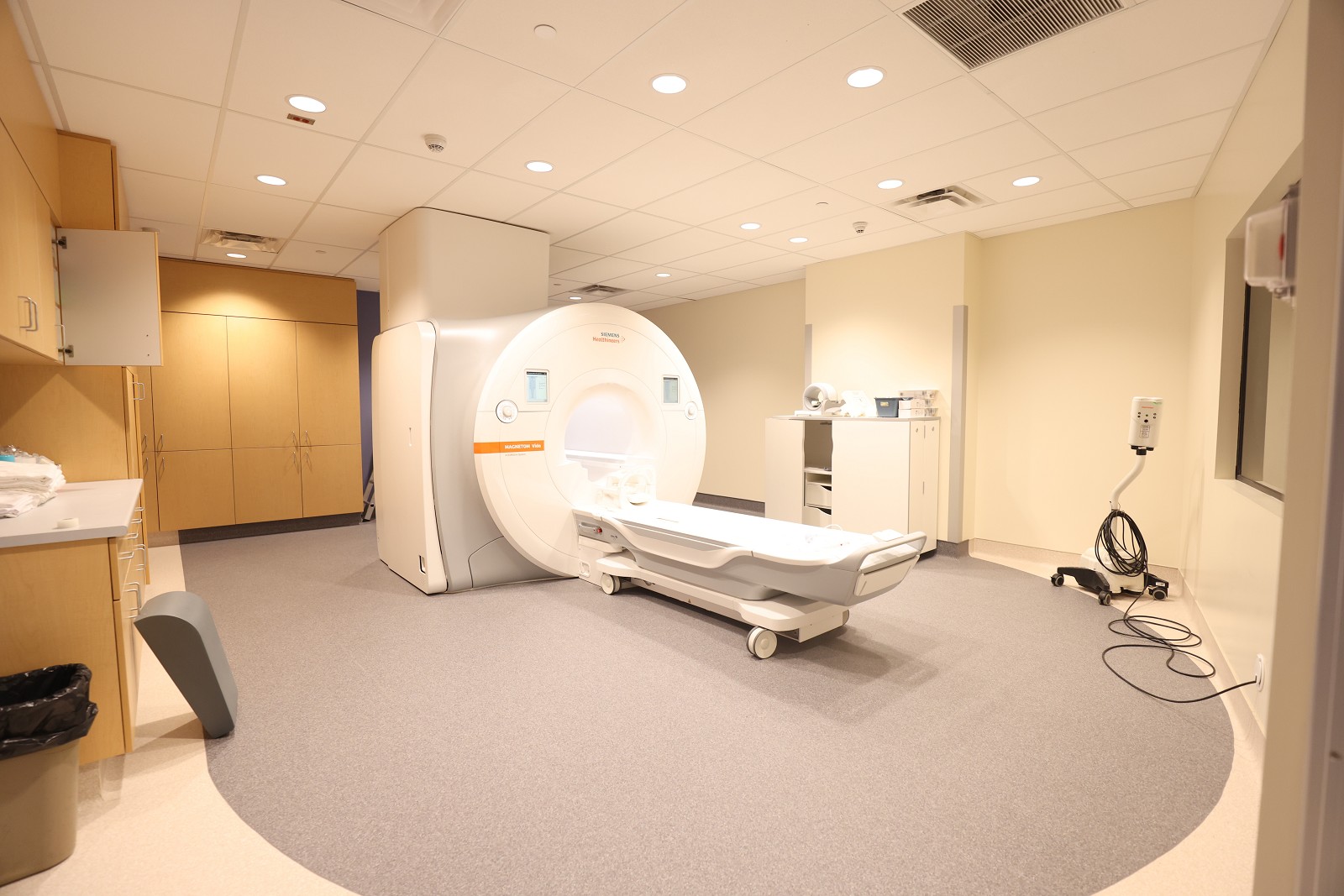 New 3T MRI Provides Countless New Imaging Opportunities
by Graham Strong
Thanks to funding from the Thunder Bay 50/50 Draw, Diagnostic Imaging at our Hospital installed a new 3T MRI unit this summer – and the things it can do are amazing.
Sandra Willson, Manager Diagnostic Imaging, Molecular Imaging, MRI, Ultrasound and Clerical Services at the Thunder Bay Regional Health Sciences Centre, said that this advanced technology will open up countless new imaging and treatment options. For the most part, clinicians will drive new innovations using the scanner.
"The new 3T MRI will enable us to do some procedures that we weren't able to do, and do some other procedures better," Willson said.
The new unit replaces an ageing 1.5T MRI installed 13 years ago. Not only was it at higher risk for breakdowns, the technology itself was ageing. This state-of-the-art 3T MRI scanner will be used to help diagnose certain cancers, including head and neck and prostate cancer cancers, with higher resolution images.
"With the 3T unit, we'll get better resolution for prostate imaging (for cancer) and the muscular-skeletal system. The quality of the images will be far better in those cases," she said.
For some procedures we already do, imaging will be faster as well, which will improve patient comfort. For example, Willson said that a patient coming in for a standard lumbar MRI might only have to lie on the table for 12 minutes instead of 16 minutes with the older 1.5T machine. "Four minutes is a long time for someone who has back pain or doesn't like enclosed spaces," she said.
Other new procedures include helping with cancer treatment planning.
"It will give us an opportunity to work with fusion imaging so that we can assist the Cancer Centre with some of their radiation treatment planning," Willson said. Fusion imaging allows specialists to digitally overlay scans from the 3T MRI and other imaging sources such as CT and ultrasound to give clinicians more detailed images for biopsies and radiation treatment planning.
But that's just the tip of the iceberg. Cardiac MRI is another procedure now possible with the 3T MRI unit. Currently, patients who need a cardiac MRI have to travel to southern Ontario. Dr. Mallory Granholm, a radiologist specializing in cardiothoracic imaging, will help develop that procedure right here in Thunder Bay when she arrives in November. Not only will that reduce travel for patients now, it will be especially important when our new cardiovascular surgical program launches.
"As we start to see cardiac surgery here, there will be more and more demand for cardiac imaging, both structural and functional. We'll be ready for them once it gets here," Willson said.
The new unit was funded in part by the Thunder Bay Regional Health Sciences Foundation's Thunder Bay 50/50 Draw. That means everyone who bought a ticket in the past year has helped bring this remarkable equipment to patients in Northwestern Ontario.
"MRI as well as other areas across the Hospital have benefited tremendously from the Foundation and by funds raised through the Thunder Bay 50/50 Draw. By contributing to Thunder Bay 50/50, you've contributed not only to the healthcare in Thunder Bay but to the healthcare of the entire region," Willson said.
You can help our Hospital purchase more equipment for better patient care too, just by buying tickets! Learn more about Thunder Bay 50/50, buy tickets, and see what this month's jackpot is up to right now at: thunderbay5050.ca