Safeway Canada's Support for Local Mental Health Program
Published Wednesday, November 16, 2022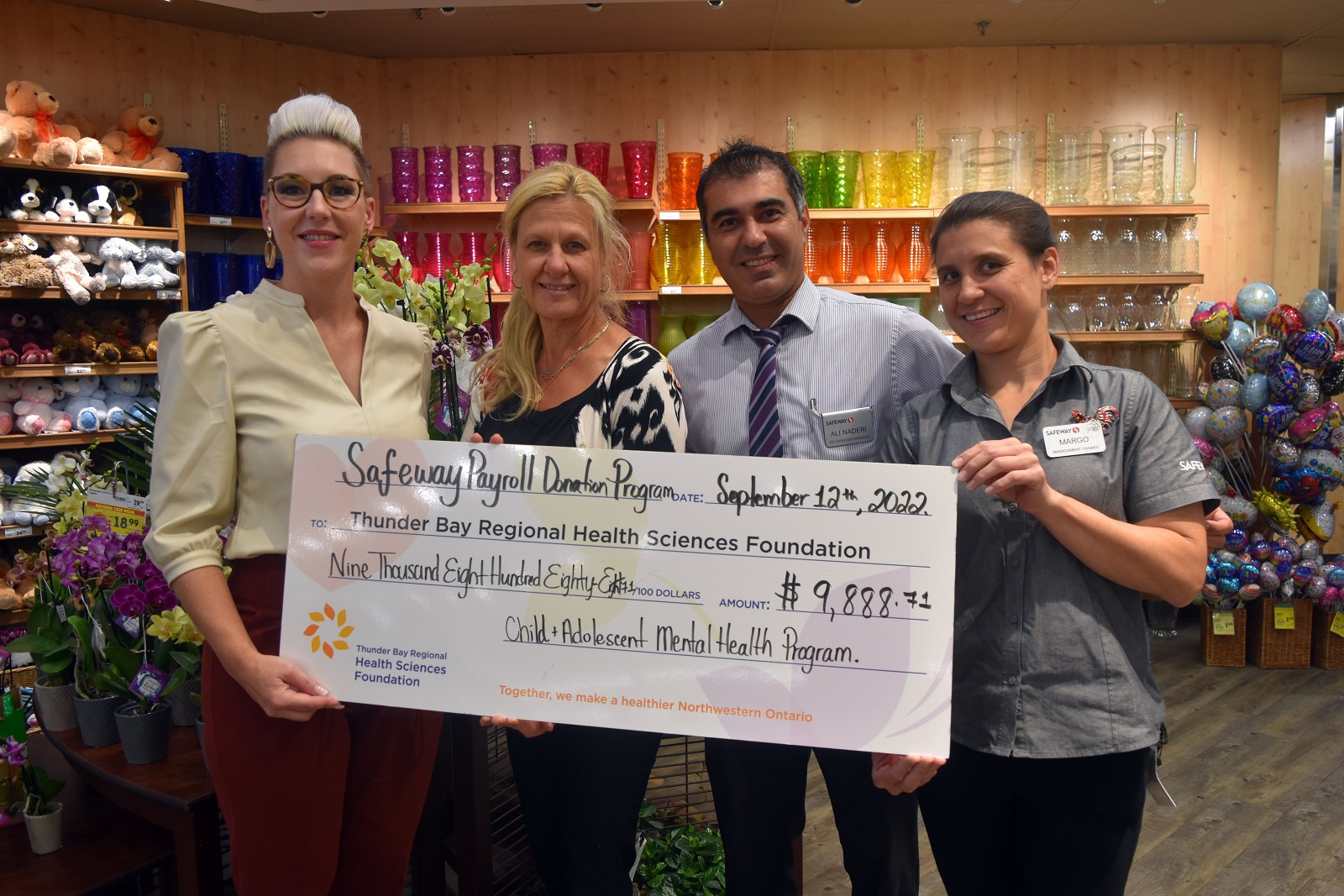 Over the years, the Safeway Employee Payroll Donation Campaign has made a significant difference in communities where Safeway stores are located. It continues, as part of Sobeys Inc., to provide employees a chance to give back to the communities they serve.
For the second year in a row, Safeway employees in Thunder Bay have generously chosen to donate to support the Children & Adolescent Mental Health Program at the Thunder Bay Regional Health Sciences Centre.
With mental health issues on the rise in the community, Ali Naderi, Assistant Manager of Dawson Road Safeway, felt it made sense to continue supporting the Child and Adolescent Mental Health Unit (CAMHU) programming at TBRHSC.
"Not only do we work in Thunder Bay, we live here also. We see what is happening in our community. And if we can work with partners like the Health Sciences Foundation to assist programs that can help, then we will do what we can," said Naderi.
This year's $9,888.71 donation from Safeway staff is being used to continue the development of a calming space in the CAMHU. Once completed, this room will be outfitted with safe resources and tools, safe furniture, and calming decorations. This will greatly assist children and youth in very vulnerable circumstances who need time to safely de-escalate.
"We would like to take the opportunity to once again thank the staff of Safeway for their generous donation," said Crystal Edwards, Director, Women & Children Program, Adult & Forensic Mental Health Programs. "This additional donation has made it possible to personalize the calming space even more! This is so valuable to the patients served within our children's mental health program."
The partnership between Safeway Canada and the Health Sciences Foundation has been going on for many years with various programs.
"For more than 25 years, Safeway has supported numerous programs including the Cardiac Rehabilitation program, We-Can which help patients with healthy food choices and, more recently, the Children and Adolescent Mental Health Program," said Terri Hrkac, Senior Director of Philanthropy with the Health Sciences Foundation. "We are so appreciative of Safeway Canada's support and look forward to working with Safeway in the future and continuing this important community partnership."
Thank you to Sobeys Canada and to the local Safeway employees. We appreciate your support!!