Dr. Mary MacDonald – Vascular Surgeon
Published Wednesday, October 14, 2020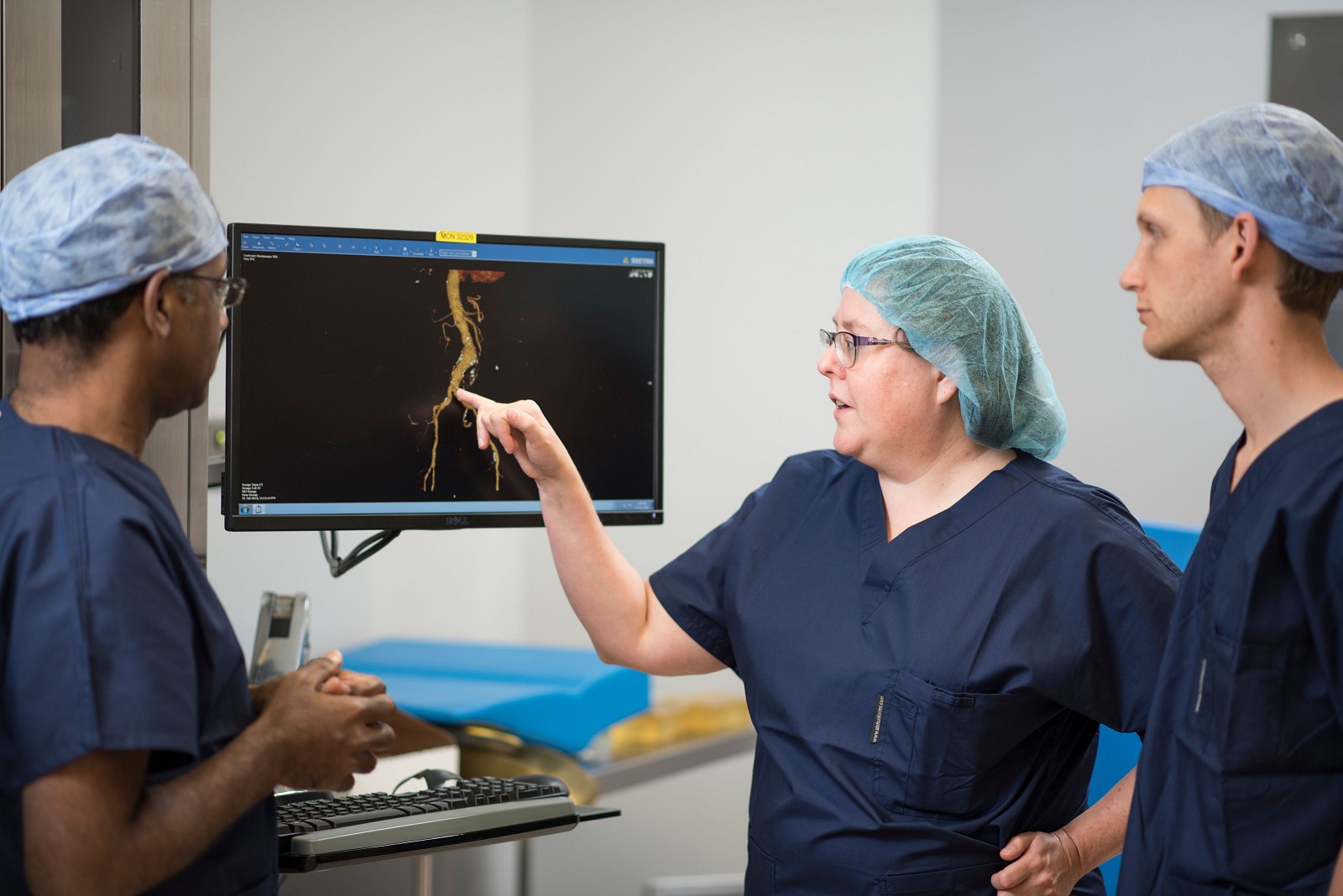 Dr. Mary MacDonald (centre) is one of three vascular surgeons including Dr. Elrasheed Osman (left) and Dr. Matthew Ingves (right) who are providing life- and limb-saving vascular surgery to residents of Northwestern Ontario.
---
Back in 2016, when Vascular Surgeon Dr. Mary MacDonald moved to Thunder Bay, she called her new position, "One of the best jobs in Canada at the time."
Thunder Bay was on the cusp of revolutionizing its vascular surgery program and Dr. MacDonald was recruited to help build the program, which, as she said, "Had significant support behind it."
"I was fortunate to move to Thunder Bay at a point where the equipment for endovascular surgery was being purchased, staff were being trained in new techniques, and I had incredible support from our partners at the Peter Munk Cardiac Centre at the University Health Network in Toronto," she added.
Formally trained with a PhD in Biology from the University of British Columbia, a medical degree and a 5-year residency in general surgery with a focus on vascular surgery from Dalhousie University, followed by a 2 year vascular surgery fellowship in Calgary, Dr. MacDonald was well prepared to serve the needs of the many patients in Northwestern Ontario who require the specialized care of a vascular surgeon.
Dr. Elrasheed Osman and Dr. Matthew Ingves joined her in Thunder Bay in 2018, and together, they provide 24/7, 365 access to vascular surgery. Vascular surgeons treat diseases of the vascular system (i.e. arteries and veins outside the brain and heart). They work to serve patients with poor circulation in their lower extremities by providing angioplasty or surgery to open blocked vessels, which is important in helping to avoid amputations. They also repair aortic aneurysms, both by open surgery and by using minimally-invasive endovascular techniques with access via the femoral artery in the groin.
One of the largest impacts Dr. MacDonald and her colleagues have had is providing fistulas for patients requiring dialysis. Most patients in Northwestern Ontario previously were using central lines, which are prone to infection and are only recommended for temporary access. Now, patients can receive a fistula – a special connection between an artery and vein - which is the gold standard for patients needing dialysis.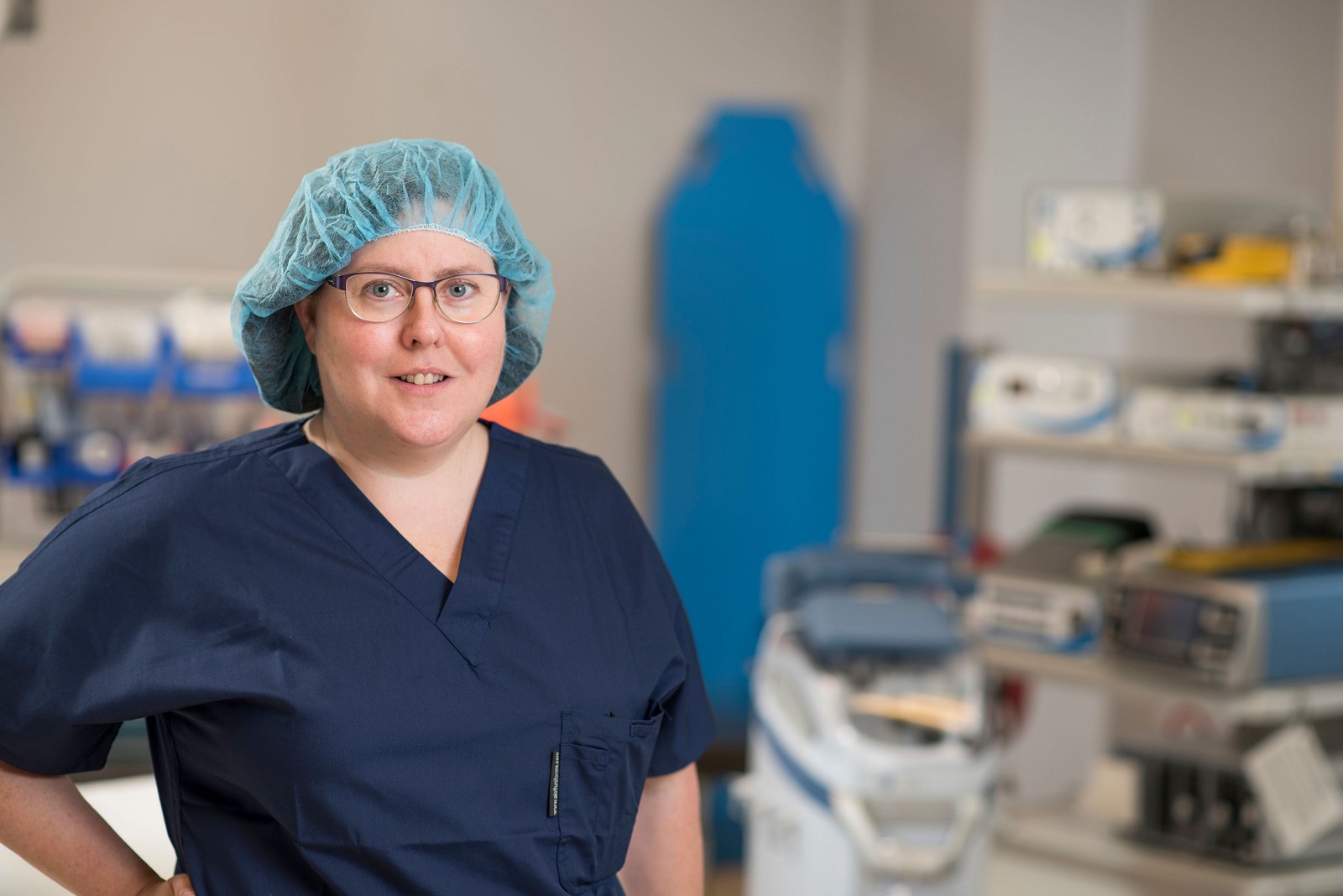 Vascular surgeon, Dr. Mary MacDonald says, "I often see more elderly patients and it's particularly important to me to help them retain their quality of life in terms of their mobility and the ability to stay in their own home and out of a hospital."
In describing her practice, Dr. MacDonald noted, "I often see more elderly patients and it's particularly important to me to help them retain their quality of life in terms of their mobility and the ability to stay in their own home and out of a hospital. Keeping one's independence is critical. It really is a privilege to help my patients enjoy their lives, as they've worked so hard to get where they are."
"I often help people when they're at their most vulnerable," she said. "The success we have with surgical procedures can be life-altering for many of our patients."
She continued, "Vascular surgery is a profession one can really enjoy and be proud of. It's a skill set that's unique and requires dedication, but it's extremely exciting. Over the past 10-15 years there have been technological advancements in this field that have revolutionized the way we operate, specifically related to minimally-invasive endovascular approaches."
"One of the aspects of my job I like most is the longitudinal care I'm able to offer patients," she said. "Once a patient is in my practice, I typically will be their surgeon for life and it is rewarding to be able to get to know my patients."
Added Dr. MacDonald, "I initially considered other specialities, but throughout my residency, vascular surgery was an area I really enjoyed and one in which I had a great mentor. I particularly like that it's very focused on problem solving and requires technical skill. I feel that surgery, including vascular surgery, is as accessible to medical students as any other branch of medicine, and, for women in particular, I would urge them to keep it on their list of options. It's one they may not have considered."
While she admits that the role of a surgeon doesn't have "a quitting time", she does take the opportunity to enjoy the beautiful geography of Northwestern Ontario, by kayaking, hiking with her dog, and cross country skiing. She also enjoys getting out to film festivals and listening to live music whenever possible. "It's my East Coast roots," she smiled. Dr. MacDonald is also a medical officer in the Canadian Forces Reserves; her job as a medic in the Reserves was actually what got her interested in medicine in the first place.
Dr. MacDonald concluded, "I'm very privileged to provide care to patients across the Northwest and I feel very lucky that our community is so supportive of the work we're doing."
In fact, with the Our Hearts At Home Cardiovascular Campaign, our community has the opportunity to support Dr. MacDonald and her colleagues, Dr. Osman and Dr. Ingves, as they continue to develop and expand the vascular surgery program. Dr. MacDonald herself is a proud donor to the campaign and encourages others to consider making a donation alongside her. As she said, "My patients are only able to receive care thanks to the resources and equipment that are here and we appreciate the support from our very generous community."
---
For more information about the Our Hearts At Home Cardiovascular Campaign or to make a donation please visit OurHeartsAtHome.ca