Bringing Lab Tests Home for Faster, Safer, Better Patient Care
Published Wednesday, November 16, 2022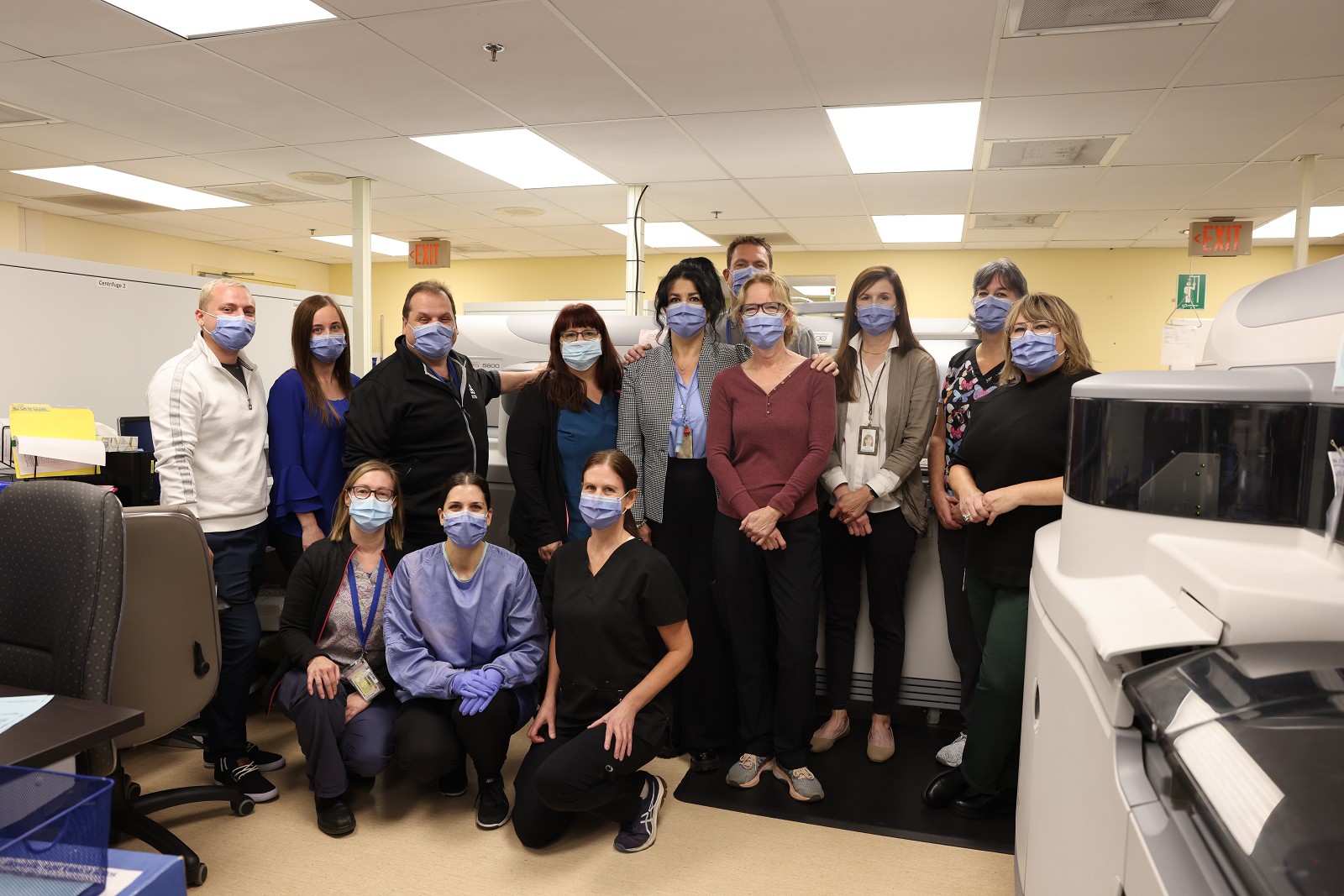 by Graham Strong
Laboratory Medicine – the science of analyzing samples in a lab – is one of the most important tools doctors have to help diagnose and treat disease. Blood work is the most common specimen type though urine, stool, saliva, tissue, and other samples also pass through the Laboratory Services department on Level 1 of the Thunder Bay Regional Health Sciences Centre. Our laboratory conducts 2.7 million of these tests every year including many tests for hospitals across Northwestern Ontario.
However Georgia Carr, Manager of Laboratory Services at the Health Sciences Centre, said that there are some tests that currently need to be sent away including crucial ones where every hour counts. She wants to bring some of these tests home for faster, safer, better patient care.
"This will improve time to diagnosis and treatment, ultimately improving patient outcomes," she said.
Medical Laboratory Science is one of the fastest growing technological fields today. By some estimates, the number of tests available to doctors has more than doubled in the past 20 years and continues to grow exponentially. But those new tests are only useful if they are accessible.
For example, certain tools like a mass spectrometer would go a long way to keeping many samples here for testing.
"This specialized equipment would be a great addition to our in-house equipment fleet," Carr said. "A really good example is that we have to send out our samples to test for anti-rejection medications for our renal transplant patients, as well as certain biomarkers for cancer care."
In these cases, fast turnaround is vital. These therapeutic drug treatments have to be closely monitored using lab tests to ensure levels are not dangerously high. For many of our most vulnerable patients including renal and cancer patients, it is crucial doctors get results back as soon as possible. That's not always possible when tests need to be sent away.
"We could do all of those tests here on a mass spectrometer and get same-day results. Patients would be less likely to be admitted, and there would be fewer safety issues with these drugs. For other patients, we would have more timely diagnosis leading to more timely treatment... there are so many advantages to having those tests here."
Cost savings is another factor. Our Hospital spends thousands of dollars sending these lab tests out of town. Of course, if a patient needs a test, they need a test. But if those tests can be brought home to Thunder Bay, it will keep those healthcare dollars here, too.
On the horizon, technologies such as digital pathology will be very useful in a remote city such as Thunder Bay. Like most things in medicine, pathology is becoming more specialized. Being able to get a second opinion from a specialist remotely using digital pathology will become the new standard of care.
"For instance, kidney biopsy is getting extremely complex. In many cases, we send the whole sample to a lab like UHN (University Health Network in Toronto) where they have pathology specialists for this. But this takes time. A digital pathology program would allow us to process the sample here, take a digital image of the slide, and send that away for analysis. We'd receive results much faster that way."
Your gift today can help bring these new pathology tests and technologies to Thunder Bay for faster, safer, better patient care. Please call 807-345-4673 or donate online at: healthsciencesfoundation.ca/lab