Thunder Bay's Favourite Cash Draw Back with Up to $50,000 To Be Won; Tickets available online
Published Tuesday, October 6, 2020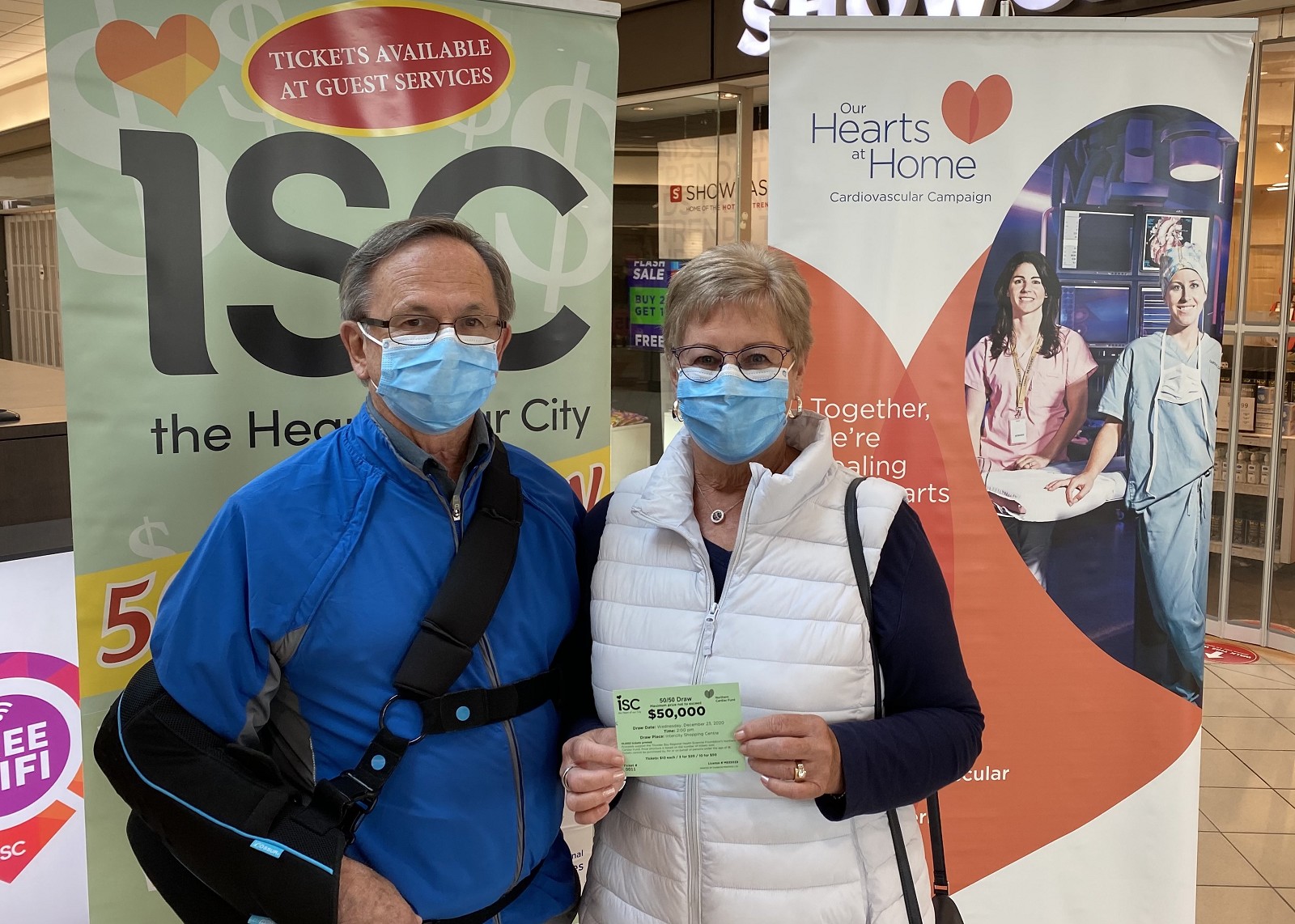 Tickets for the Intercity Shopping Centre 50/50 Cash Draw are now available online at healthsciencesfoundation.ca/intercity5050 or at Guest Services at ISC. Grab them for a chance to win up to $50,000. Pictured here purchasing the first ticket are Ken and Heather White.
---
Celebrating its 21st year, the incredibly popular Intercity Shopping Centre 50/50 Cash Draw launched on Thursday, October 1 at Intercity Shopping Centre, with double the potential jackpot of previous years.
This year's draw has a few changes from previous years including a payout of up to $50,000 and the option to purchase tickets online. Proceeds from the draw will continue to support the Our Hearts At Home Cardiovascular Campaign to bring a full-service cardiovascular surgery program to Northwestern Ontario, keeping patients and families closer to home for life- and limb-saving surgery.
Dave Grady, a member of the NextGen Cabinet for the Campaign said, "It's our time to have a full cardiovascular surgery program available here in Northwestern Ontario. We all know someone, or even multiple people who've had to leave town for surgery and, let's be honest, it's not an experience any patient or family wants to go through. There's nothing more important than knowing family and friends can surround a loved one when they need these critical surgical services. Right now, we have a full complement of vascular surgeons who are providing 24/7 vascular surgery, saving both lives and limbs. The next step is to bring cardiac surgery here and, thanks to Intercity Shopping Centre and everyone who purchases a ticket in this year's draw, that will soon be a reality."
"We can't wait to get this draw rolling," said Stacey Ball, General Manager, Intercity Shopping Centre. "Our community has endured many changes this year due to COVID-19 and we're delighted that this draw could safely continue, and, in fact, get even better than years past. Knowing that all the funds raised go right back to our Hospital for cardiovascular surgery was the motivation for us to find a way to keep this draw going, and we were so excited about it, we launched about a month earlier than normal."
From October 1 until December 23, 2020 (or until tickets are sold out, whichever comes sooner), tickets will be available at Intercity Shopping Centre (Guest Services) and online at healthsciencesfoundation.ca/intercity5050.Tickets are $10 each, 3 for $20 or 10 for $50 and may not be purchased by, or on behalf of persons under the age of 18. For the past several years tickets have sold out early so organizers are encouraging people to buy tickets right away.
This year's Intercity Shopping Centre 50/50 Cash Draw will be held on Wednesday, December 23 at 2:00 p.m. at Intercity Shopping Centre. Ticket holders do not have to be present to win. Lottery license 835539.