Barbells for Boobs – A great event in support of Breast Cancer on October 30 at Superior CrossFit
Published Wednesday, October 13, 2021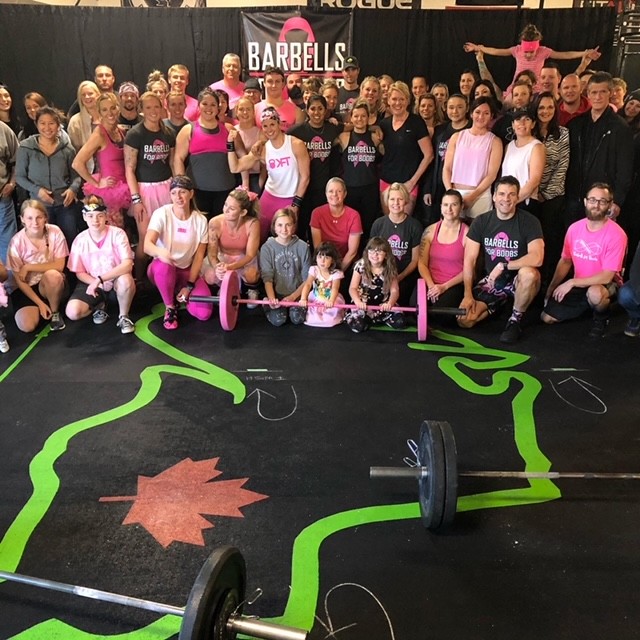 Barbells for Boobs – Photo taken prior to COVID-19.
---
If you are looking for a fun event that combines a great workout and supports breast cancer, look no further than Barbells for Boobs. This annual event, organized by Superior CrossFit, has raised over $10,000 for the Northern Cancer Fund.
"Barbells for Boobs is a worldwide event put on by CrossFit gyms during the month of October, which is breast cancer awareness month. The event is "Grace", 30 Clean and Jerks for FUN! The workout can be modified and is suitable for all abilities and levels of fitness," says Ron Rost, one of the organizers of the event. "All proceeds from the event will be donated to the Northern Cancer Fund, as it's important to us that funds raised will stay right here in Northwestern Ontario".
Registration is by donation, and all proceeds will be donated to the Northern Cancer Fund. The event starts at 10:00 am, with participants completing the workouts in heats. To sign up for this year's event, you can contact Ron Rost at (807) 252-8777. Or, if you are a member of Superior CrossFit, you can sign up using your profile on the MindBody app. All participants must show proof of vaccination as per Thunder Bay District Health Unit. Participants are encouraged to wear their Halloween costumes or pink in support of breast cancer awareness.