Tbaytel Matching Up to $7,500 in Donations to Northern Cancer Fund
Published Thursday, September 17, 2020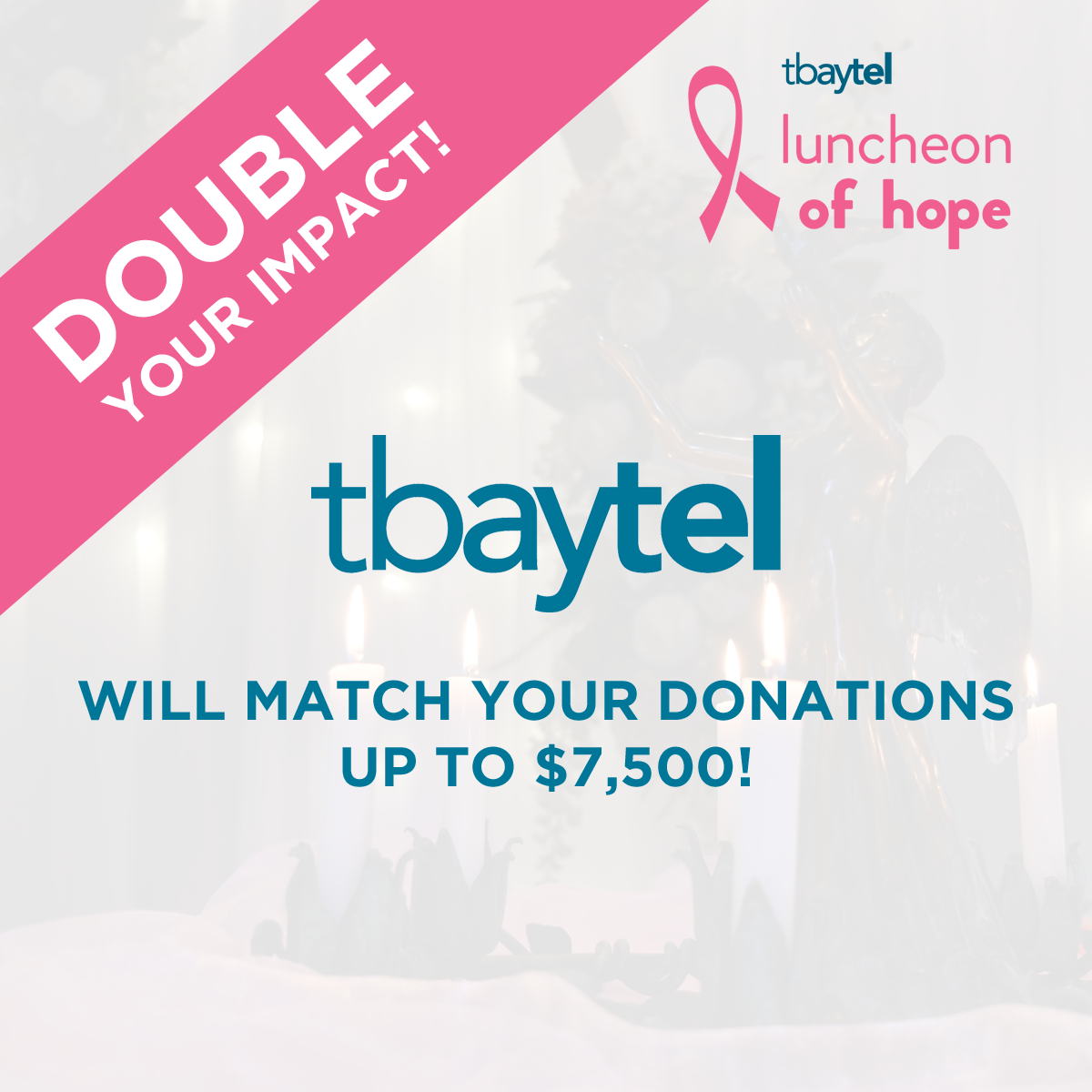 The Thunder Bay Regional Health Sciences Foundation held out hope that the Tbaytel Luncheon of Hope could take place this October. Sadly, it's not meant to be. The COVID-19 pandemic has made us re-imagine so many things we took for granted.
Unfortunately we've had to outright cancel many events we all look forward to throughout the year, including large-scale events like the Tbaytel Luncheon of Hope. We count on these events, and the generosity of attendees, to raise much-needed funds for exceptional cancer care closer to home.
Without being able to hold in-person events, funds raised from special events have plummeted.
It's essential that we continue to offer the cancer care our community has come to expect, because, let's face it, cancer doesn't stop in a pandemic and hope is needed now more than ever.
Incredibly, our friends at Tbaytel have generously committed to matching up to $7,500 in donations to the Northern Cancer Fund for Breast Cancer!
Donations will fund critical updates to equipment used to diagnose breast cancer, giving people the best possible chance at life beyond breast cancer.
At the Linda Buchan Centre, a new mammography unit will soon be installed, which includes a new state-of-the-art tomosynthesis/stereotactic biopsy unit. This new unit will ensure patients can access Rapid Breast Assessment, where mammography, ultrasound, biopsy (if required) and one-on-one interaction with a breast imaging radiologist is offered all in one visit. For people with a suspicion of breast cancer, reducing the time it takes to be diagnosed or given the all-clear is of huge importance.
Donate today and have your impact doubled by Tbaytel: www.healthsciencesfoundation.ca/tbaytelmatch
-30-

Heather Vita
Director, Marketing and Communications
Tel: 807-684-7111
Cell: 807-631-3793
E-mail: heather.vita@healthsciencesfoundation.ca