New BPH Procedure Preserves Specific Sexual Function
Published Monday, September 20, 2021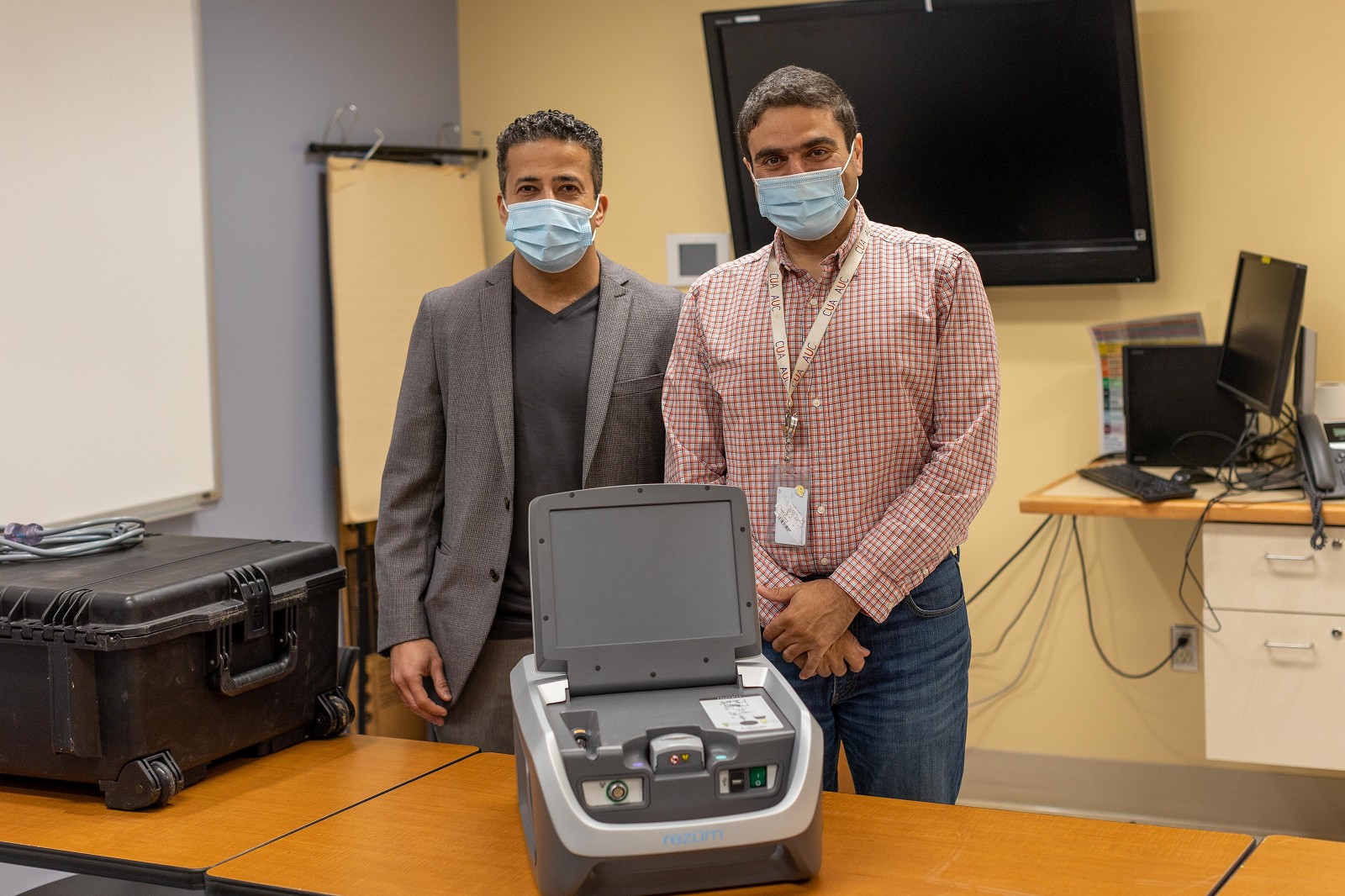 by Graham Strong
Drs. Hazem Elmansy and Walid Shahrour, two urologists at the Thunder Bay Regional Health Sciences Centre, have brought a new treatment to Thunder Bay for men suffering from enlarged prostates. Called Rezum, this treatment was developed five years ago as an option for patients concerned with a specific sexual side effect of the laser surgery called retrograde ejaculation.
"Patients have been asking us about Rezum because they've heard about it in the media," Dr. Elmansy said. "Until now, we've had to send them down to Toronto."
Thunder Bay is one of a handful of locations in Canada to offer the procedure.
"We don't want any patients leaving the North for any technology-related urology procedures," Dr. Shahrour said. "Patients in Northwestern Ontario deserve the same access to treatment options and the same level of care as anywhere else in the province."
Benign prostatic hyperplasia (BPH) is a common condition in men 50+ that can reduce or block the flow of urine from the bladder. This can lead to several uncomfortable conditions including the inability to empty the bladder, frequent urination (including through the night), and kidney problems.
Many BPH cases can be controlled with medications. When medications don't work, there are surgical options including laser therapy. Rezum is another minimally invasive surgical option that uses steam injected in to the prostate every one centimetre or so to reduce its size.
Rezum requires only one treatment, but it can take up to three months to take full effect. That's how long it takes for the tissue to die after the steam injection and be cleared through the body's own natural elimination systems.
Although it's a newer procedure, Rezum's long-term effectiveness look promising, Dr. Elmansy said. Data from its first five years show that 90 per cent of patients remained symptom-free. In other words, only 1 in 10 patients required further treatment.
"I was skeptical in the beginning," Dr. Elmansy said. "However, the data are showing excellent results."
Rezum isn't a good option for all BPH patients, Dr. Elmansy said. The procedure is only effective for men with smaller to mid-sized prostates. On the other hand, it's a better option for patients who are too sick to go under the general anaesthetic required for laser surgery.
Dr. Shahrour stressed that although patients need to pay out of pocket because OHIP doesn't cover the procedure, it's not a commercial venture. Instead, it's an alternative treatment option that patients were asking for.
"We tell our patients, look, there are other effective procedures out there that are covered by OHIP like the laser surgery which is just as effective in solving your BPH problem," he said. "It's part of our (pre-operative) counselling notes. But for some patients, avoiding retrograde ejaculation is very important to them. So, we have an option to help them now, too."
Those interested more about the Rezum procedure can contact the Superior Urology Clinic directly at (807) 285-9289.