Message from Kyle Shaen, Chair, Board of Directors, TBRHSF
Published Monday, September 20, 2021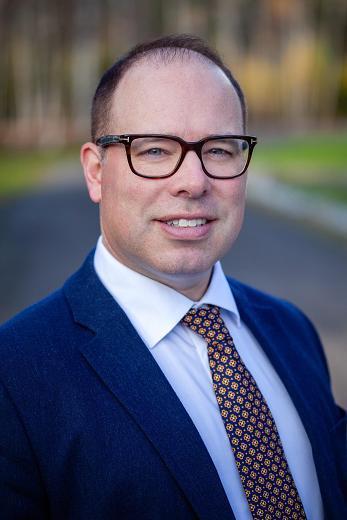 Live events are back!
I hinted at the beginning of summer that plans were in the works. Of course, we weren't sure at that point where we would be in the pandemic. But I'm happy to report that the Tbaytel Luncheon of Hope will take place in person at the Victoria Inn on Friday, October 29.
Of course, there will be entrance requirements. Check the website (link below) for the most up-to-date information. But briefly, to meet provincial mandates, all participants will require proof of vaccination (mixed vaccinations are acceptable) or a negative COVID-19 test completed within the previous 48 hours. Mask use will also be necessary until you reach your table.
Speaking of which, tickets are by table only so you can ensure you're seated with people you're comfortable with. As with previous luncheons, a local guest speaker will share her breast cancer journey. This year it's bound to be an extra-special afternoon of tears and laughter, honouring and remembering those who have gone through their own journeys.
All funds will go directly towards supporting better breast cancer care in Thunder Bay and Northwestern Ontario. This raises an important point about matching donations to intended uses. The Thunder Bay Regional Health Sciences Foundation always matches. So for example, breast cancer funds only go to breast cancer-related programs.
That's true of every donation of any size. We've always given our generous donors the opportunity to direct their gift to whatever healthcare initiative they want: cardiovascular care, cancer care, paediatric care, urology, research, and so on.
Others prefer to give to the area of highest need. Each year, the Thunder Bay Regional Health Sciences Centre develops a list of equipment needs. It could be new, cutting-edge equipment and treatments. Or, it could be replacement equipment for everyday care – equipment that is still vitally important. These purchases might be at the Hospital itself or they may be at one of its many regional programs.
Once the Hospital asks for our support, these requests are reviewed by the Foundation's Grant Committee before getting final approval from the Board as a whole. As you may know, our Board is made up of community members. They don't necessarily have a medical background (I'm a financial planner, for example), but some do: this year, we have two physicians on the Grant Committee. All that's really needed is a desire to help improve healthcare in our region.
It's a method that really reflects our community spirit. Together, we raise funds for better healthcare. Together, we decide what that better healthcare is. Together, we help create our own world-class healthcare programs.
Together, for better.
And now, we're back together physically, too. Find out more about the Tbaytel Luncheon for Hope on the Foundation website (healthsciencesfoundation.ca/luncheon) and how you can get a table of friends together.
Kyle Shaen