Women in Action
Uniting women to improve health care in our community.
Who Are We?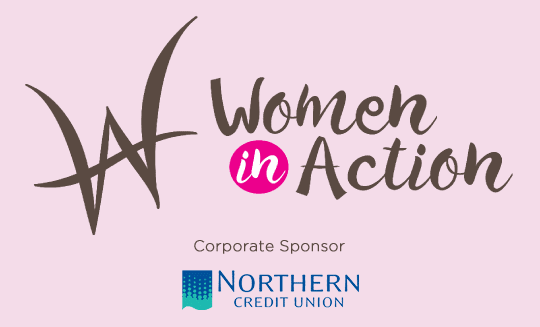 Formed in the fall of 2016, Women in Action (WIA) is a united membership of dynamic and dedicated women with a shared philanthropic interest of improving health care at the Thunder Bay Regional Health Sciences Centre and we are over 140 members strong!
Currently, the majority of our membership donations are being conserved to support a large renovation project that will see a more private and streamlined Triage Area and the addition of a Mental Health Emergency Services Area. Women in Action have already granted a remarkable $90,000 to the Emergency Department which directly supported the reconfiguring and upgrades required in both the Trauma and Resuscitation Rooms, plus new privacy curtains.
Throughout the year, members take the opportunity to get together and have some fun. We have events to meet new members and we have exclusive member-only events. We network, celebrate, collaborate and, together, we decide what healthcare priorities mean to us. Each year, we have an Annual Voting Event where all members in attendance will have the opportunity to raise their voice and vote on a project and/or need within our Emergency Department.
All women are welcome to join Women in Action!
Women in Action Will:
Act as healthcare champions in Thunder Bay and Northwestern Ontario.

Promote the importance of philanthropy in healthcare and the positive impact of making a donation.


Develop a strong network of philanthropic women and celebrate the impacts of our contributions through social gatherings.
Our First Goal: Supporting the Emergency Department Enhancement Project
Our Emergency Department at our Hospital is one of the busiest in Canada! Designed almost twenty years ago, our Emergency Department helps 110,000 patients per year in a space meant to serve approximately 80,000. There are severe over-capacity issues impacting wait times, patient/family/staff safety and overall patient experience. Hallways are overcrowded and, despite best efforts, privacy and dignity can be compromised.
Funds raised through membership have a direct impact on these issues.
IMPACT! Your Annual Membership Donation Will Help Support:
A more functional and efficient Emergency Department space, designed to serve the increased need for services.

Additional treatment spaces to address over-crowding issues.

A new PRIVATE treatment area to ensure patient privacy and dignity won't be compromised, especially for mental health patients.

A re-designed triage area for more privacy and accessibility.
Membership to Women in Action
Membership is open to any woman wishing to be a part of Women in Action. Our strength comes from the open and diverse nature of the group, so we want to welcome everyone we can.
Members will be required to sign a pledge agreement committing to a monthly donation of $41.67+, or annual donation of $500+. A charitable tax receipt will be provided for the full amount of the membership donation.
Join Women in Action
Donate Monthly
You may choose to make a monthly donation of $41.67 or above.
Donate Annually
You may choose to make an annual donation of $500 or above.
Will I receive a charitable tax receipt?
Yes. For monthly donations you will be mailed a charitable tax receipt at the end of each year, totalling that year's donations. For annual donations you will be emailed your tax receipt immediately, then mailed all subsiquent receipts in the same month every year.
Your Women in Action Committee Members
Pam Peterson, Chair
Natasha Mellon, Vice Chair
Lisa Beck
Sharon Bon
Terri Hrkac
Cindy Kawahara
Janet Margarit
Nicole Margarit
Ivana Mihaljevic
Melissa Roulston
Karin Sitko
Cathy Tesolin
Donna Yocom
More Information
If you'd like more information about Women in Action please contact us:
or contact Cindy Kawahara at (807) 684-7107.